September 26, 2018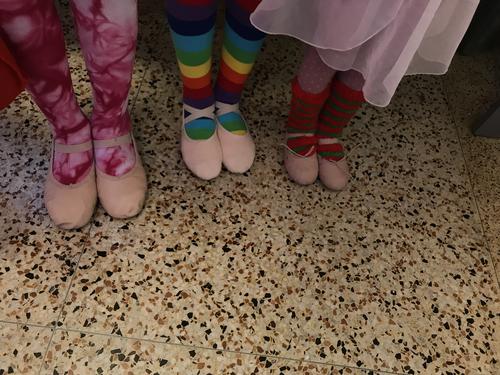 It was silly sock week at ballet and I was AWESOME mom because I actually remembered this.
Most of our activities for the fall have now started up and our schedule is still overbooked, but less than last year.
Monday, Wednesday and Friday Amelia has morning preschool. She's doing lunch club on Wednesdays and Fridays and a sports class Wednesday afternoons and art Friday afternoons. She wishes she was doing the Monday lunch club and activity as well. Maybe next semester.
Matthew has karate Monday evening.
Tuesday morning I've been taking Amelia and Michael to the French playgroup "Grandir Ensemble". In the evening one of us drops Elizabeth at karate on the way to Matthew's piano class and then pick her up on the way home. Since music isn't until 5pm, we don't have to pick them up from school, which is AMAZING. Their new bus driver is also awesome so we have actually been having enough time to eat before leaving. When that works, we don't even really have a late bedtime.
Wednesdays my girls have ballet and I pick Elizabeth and Olivia up from school. Elizabeth was told she didn't get to go to Wednesday karate. After dinner Matthew has "ninja" class, which is his consolation for not getting to continue acro dance which was scheduled in such a way that we'd have had to pick him up from school. Ninja class consists of a LOT of running and bouncing on things. Matthew loves it. It's also super close to our house, so it's feasible to go home or run errands during the class.
Thursdays Amelia has her music class in the morning. Her class comes to us. I'm loving both the fact that we don't have to go anywhere and the need to tidy the basement. Elizabeth has a piano lesson with Lorianne after supper and then goes to karate.
Fridays Elizabeth gets picked up from school by Olivia's mom, and then either walks home or gets picked up from ballet. Matthew technically has a karate class but we have mostly been skipping it. If we go, I take supper and Elizabeth straight to his class. She eats during his class, then does double sparring followed by tournament team while Matthew and I go home. Otherwise we just take her to karate after the other kids are in bed.
Saturday mornings Matthew has karate first thing. Then the three oldest kids have skating.
Sundays we rest. Or alternatively, we play with friends and family. Same difference, right?
You might also like
- Extracurriculars start again
(0.453704)
- Social Distancing: Day 5
(0.43659)
- Music
(0.43074)
- First outings: Music, library, karate
(0.424742)
- Matthew's first skating class
(0.423154)
All