September 6, 2018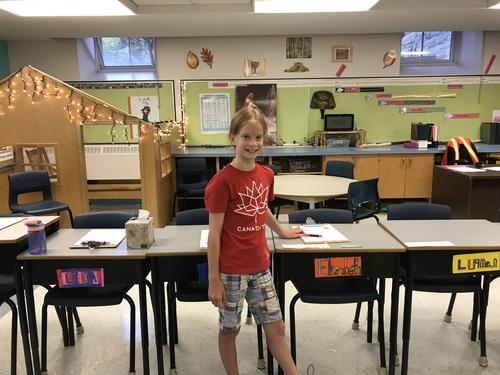 Elizabeth's parents were invited to visit her classroom and instructed in no uncertain terms to bring Elizabeth along as she would be responsible for doing the presentation. We got special permission to also bring Michael and left the other two to hang out with Lorianne.
The kids all had to show their parents around (using clipboard to make sure they didn't miss anything vital) and then there was an opportunity to talk to the teacher afterwards. It was a pretty neat way of doing it. Mme Annie seems to stress independence this year. Each kid has their own area of responsibility, which apparently change around every week (?). Elizabeth is currently doing recycling and takes great pride in her new expertise.
Elizabeth is also quite happy that they are allowed to eat at their desks, whenever they want. "Obviously not during special classes like gym, Mom"
Their class is doing a thing where you get to put pasta in the jar if you are well behaved. When they fill the jar, they give it to the office who gives them a ping pong ball. When they get enough ping pong balls then they get some kind of prize. Elizabeth seemed excited anyway.
At the moment they are learning to write autobiographies. For those of you who can't read french, in addition to the obvious details about birthday and family members, Elizabeth's autobiography says that she is "nice", "good at reading", "likes sports and cakes" and "wins lots of medals".
You might also like
- Virtual School: Week 8
(0.405181)
- Wedding #RayCray2016
(0.389321)
- Sportball
(0.386667)
- Virtual School: Week 10
(0.38499)
- Skating Show
(0.384785)
All