September 29, 2018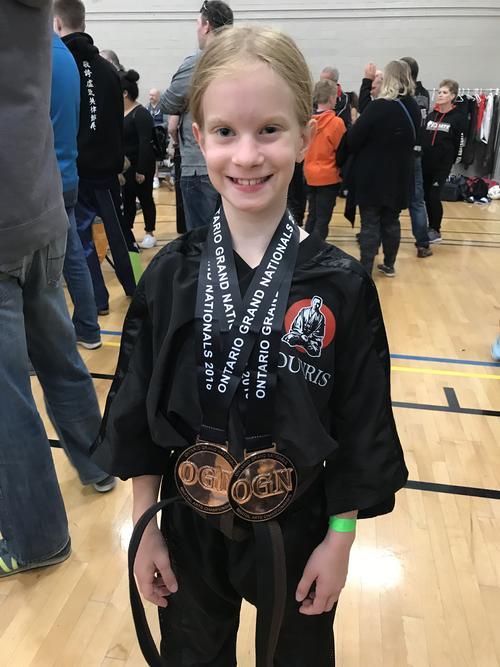 Elizabeth, Michael and I went to London so that Elizabeth could compete in the Grand Karate Nationals. It was also inventory weekend which is our busiest weekend of the year for work, so I was very lucky that my boss let me have the weekend off (!). I did what I could to ensure that someone else was in charge of the middle kids for most of the weekend, because there are always times during inventory weekend when we need to have focussed time to figure out what has gotten screwed up this time and we were hoping to have a new scanner system trial go smoothly.
Amelia's godfather Michael took them skating, Janice took Matthew to his birthday party and Auntie Yukiko and Uncle Chris were going to take the kids for supper and overnight until Yukiko very unfortunately became ill. Luckily nothing went wrong during inventory that night! They slept in an igloo in the basement so they didn't feel too deprived.
In any case, Brendan needed to have the van available and Michael hates the car after about two hours of travel, so Brendan insisted we take the train. Elizabeth and I didn't complain.
We spent almost the entire time on the train alternating reading chapters of Percy Jackson and the Lightning Thief (the next karate book club book).
Auntie Mary very graciously agreed to pick us up in Toronto so that we would have more time to visit. We had a lovely drive to London and then went to visit Great Aunt Vera. Elizabeth learned to play Scrabble on Vera's super large scrabble board (it's amazing - it has quadruple word scores lol). She was pretty excited to get to put down all her letters twice and beat the lot of us by a significant margin. Yes, we did help her.
Then we all headed over to Auntie Maybeth's for supper and bed. I was pleased to find out that my cousin David was there with his two kids. I'd never met Owen or Nina before so it was nice to rectify that! Owen was interested in karate, so Elizabeth showed him a few moves. We had an amazing time staying with Maybeth and were sorry we had to leave so soon.
The next day was the actual competition. Elizabeth was hardly nervous, though she did spend a lot of time trying to figure out how many girls were going to be sparring against her. She was very happy to see her friend Remi. Elizabeth took bronze in kata out of a field of eight competitors, four of whom were very very good. In my completely expert and unbiased view (ha!) she should have had the silver. She did super well though and was ranked first by one of the judges. She was pleased with herself as her goal was to do a good jump and focus on extending her legs and she reckoned she did that.
There were only three advanced girls so it was a very low pressure fight - Elizabeth likes getting guaranteed medals. The first fight against random competitor should have been winnable but she just wasn't quite ready. It was awkward because Elizabeth didn't actually realize at first that she had lost her match. "Wait - I lost? That kid was so slow!" Remi usually beats Elizabeth in competition and today was no exception, but Elizabeth's second fight was much better than her first and we wondered how she might have done if she had warmed up a bit first (that's going to be next fight's goal - to get in a practice at the event!). It was fun to see how much the girls have improved.
After they were done we thought we'd head straight to Toronto but Elizabeth was keen to see sensei Brigitte and sensei Cody fight. Of course they were scheduled in the afternoon but we stayed to cheer and it was pretty fun to watch. Brigitte and Justine got matched up and so did Ben and Cody. So many Douvris people to cheer for it was hard to know where to look! Sensei Justine actually won both grands. "How much did you win?" demanded Elizabeth. "$400!!!! I want to win money!!!"
At one point the kids were all sitting down watching the men's sparring and got told off for not being on their feet ready to jump out of the way as they nearly got run right over.
After the competition was all over Mary drove us Toronto to stay with Auntie Muriel. We had a lovely supper and good time catching up. Elizabeth introduced Michael to the cuckoo but not the cuckoo "tradition" of whistling with cuckoo since she forgot the whistle for the first time ever. I was only a little sorry (hee).
All too soon it was time to take the train home. Muriel dropped us at the station as Mary didn't stay over. Elizabeth and I spent the ride reading and catching up on homework, methodically making sure that everything we had brought with us got used to justify having brought it in the first place.

It was a great trip but the best part might have been coming home...
You might also like
- Karate Tournament
(0.490473)
- Karate Tournament, Birthday and ER Part 2
(0.487788)
- WKC World Championships
(0.48013)
- Great Grandma Funeral
(0.475827)
- Mary and Andrea visit
(0.472329)
All