October 7, 2018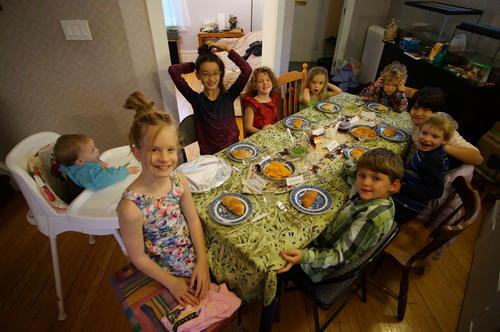 Big family thanksgiving dinner featured Sarah (plus boy), Uncle Dave and Auntie Karen and family, Auntie Heather and Andre, Uncle Mark, Grandma J, Uncle Chris and Auntie Yukiko and family, Auntie Janice and of course our crew of hooligans.
We made a kid table for all nine cousins, even Michael and told Erika and Elizabeth they were responsible for feeding him. It actually worked for the main course!
Turkey supper with sweet potato and corn. Squash, salad with many toppings to be added. Uncle Chris brought his famous rolls and pumpkin pie - including one that was gluten free!
Mila and Simon from across the street came over to play before supper. Then we kicked them out, and they came back after we were done eating.
After supper the kids built a massive fort to sleep in and Erika stayed for a sleepover. Maria is not a fan of sleepovers, so she went home to sleep in her own bed.
You might also like
- Easter Sunday
(0.35935)
- Junior Black Belt
(0.353562)
- Solo parenting
(0.352795)
- Great Aunt Joanne
(0.349275)
- Happy Birthday Daddy
(0.345455)
All