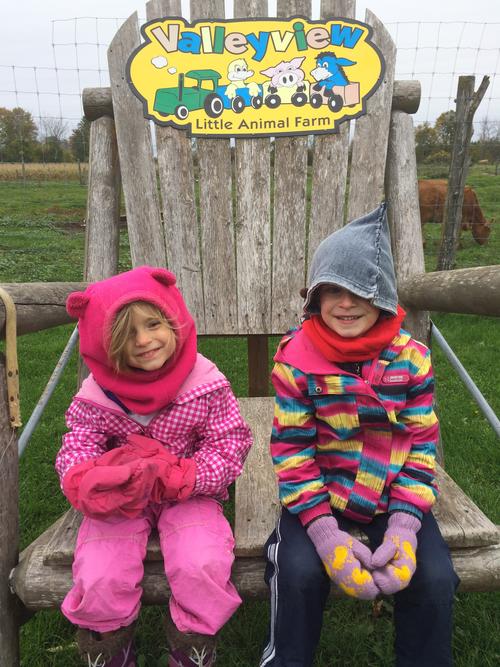 Auntie Janice here.

My dear friend Chantal told me she'd be visiting Ottawa with her husband Andrew and her son. They live quite far away, so I hadn't met Philippe yet... and so we decided to meet up somewhere he could run around. "Why don't you bring along some nieces and nephews?" she suggested. As it happened, Amelia and Matthew were the available ones, so off we went.

We arrived just in time for the tractor "train" ride, which included a delightfully incomprehensible 3 minute tour of the farm crops. Then there were animals to climb on. Then we went to feed the goats. Philippe was rather fearless and even went right up to pet a couple goats who had just been crashing into each other headbutting etc... Amelia and Matthew were predictably much more concerned about not being eaten. "Scary" came up a few times from A. After washing our hands, we saw some unusual chickens, and then found the "tractor" tricycles. Sadly Amelia was only *just* too small to make the pedals go around, but she was awfully attached to the tractors nonetheless. This is unsurprising. Amelia LOVES "her" cars. Then we took a look through some little museums with old things in them, and made our way to the play structures.

WHOA. THE PLAY STRUCTURES. There were so many of them. They were so well made! There was a house, a boat, a train, a fort, a ship, a tractor... My personal favourites included an airplane and a working grain elevator. You used little shovels to dump the sand into the trucks below... very collaborative, and I might have had more fun doing it than the kids did... though they enjoyed it a lot. To finish off, we decided to do the little walk in the woods, but "the big dark woods" were "too scary" for Amelia and it was starting to drizzle a tiny bit so I took her back to the play structures while we waited. More playing, and then we all went home. SO much fun all around. Great suggestion, Cha-chi!