January 25, 2010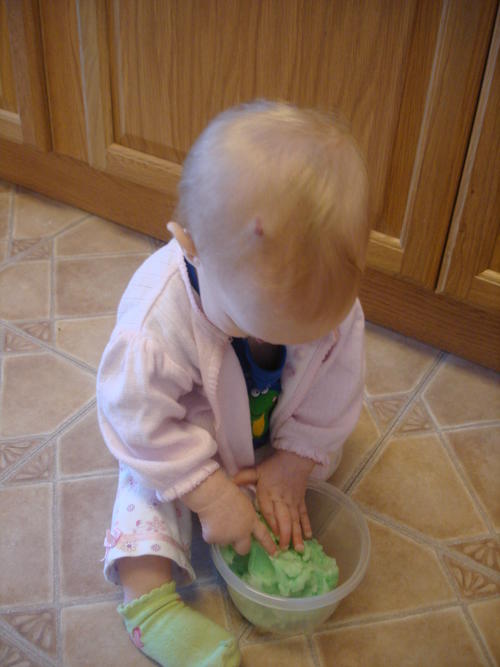 When my parents left for Portugal, they left behind rather a lot of salt. Popcorn salt, coarse salt, pickling salt and several lifetime supplies of table salt. There was some joking about preserving the "family salt"; keeping it and passing it down for generations to come...
But then I recalled that homemade playdough uses a lot of salt and decided that this would be an ideal opportunity to introduce Elizabeth to the joys of modelling. We don't allow wheat flour in our house so I found a gluten-free playdough recipe online (my favourite source actually has a whole series of playdough recipes both gluten-free and not; as well as edible and non-edible) and duly poured 1/2 cup of rice flour, 1/2 cup of corn starch, 1 tsp of oil and a cup of water into my pot. I added 2 tsp of cream of tartar (this apparently makes the playdough last longer - I suppose it could be omitted if you weren't planning to store the dough), and started stirring.
"What about the salt?" My husband asked, who was watching with interest. Whoops! Luckily it wasn't too late to add it, although Brendan was disappointed by how little salt the recipe called for. I gather he had visions of significantly reducing our salt stockpile rather than the 1/2 cup it actually needs.
It took a bit longer than the advertised five minutes, but eventually my dough came together in a beautifully white lump of modelling clay. And then I realized I should have already added the food colouring. Luckily we were able to work the colour through the dough after the fact. It took about 12 drops of green to get the colour I wanted and I was really pleased with how the dough even felt like the "real" commercial playdough. Except for being nice and warm from all the cooking...
We tried to get Elizabeth to actually make something but quickly gave up and concentrated on learning not to eat our art supplies. She loved watching mom make worms and dad make snowmen, and kind of caught on to the idea of poking finger holes into the dough. But mostly she just liked the feel of the dough, spending quite a long time shredding it and then packing it all into the container and then taking it out again and shredding it again.
I was very glad I opted to make my own gluten-free playdough instead of buying some because otherwise I would have been poisoned for sure. We were still picking bits of dough out of her (second) set of clothes and under her fingernails hours later!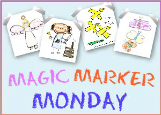 1
On January 25, 2010 at 11:55 pm
Childlife
said:
So fun! I'd never seen a recipe for gluten-free play dough before -- looks like she had a ball! (And who doesn't contemplate eating their art supplies once in a while -- happens all the time around our place -- LOL!)



I must say, that little girl of yours has quite the contagious smile!



~Michelle
2
On January 26, 2010 at 00:37 am
Marie
said:
What fun! Do you think the warm dough was even more fun than just plain old dough. I may have to try that. But I gotta say I so enjoy NOT picking playdough out of the carpet. hmmm....
3
On January 26, 2010 at 00:43 am
Monica
said:
Thanks for the comment on my blog! I wanted to let you know more about the muffin tin's Meals - click the link on the Muffin Tin and there is a list of theme that we do every week. After that it's just your imagnation and what your kids will eat!



Your playdough sounds wonderful. I am sure my boys would love that! Sounds like your daughter diffently did also!
4
On January 28, 2010 at 02:16 pm
Grandma H
said:
Looks like she had oodles of fun! Make sure you keep it in the fridge.
You might also like
- Arts N Crafts
(0.444134)
- Valentine's Desk
(0.441336)
- Child Labour
(0.421434)
- Farm Camp
(0.417638)
- Christmas Cards and Crayons
(0.416114)
All