June 29, 2018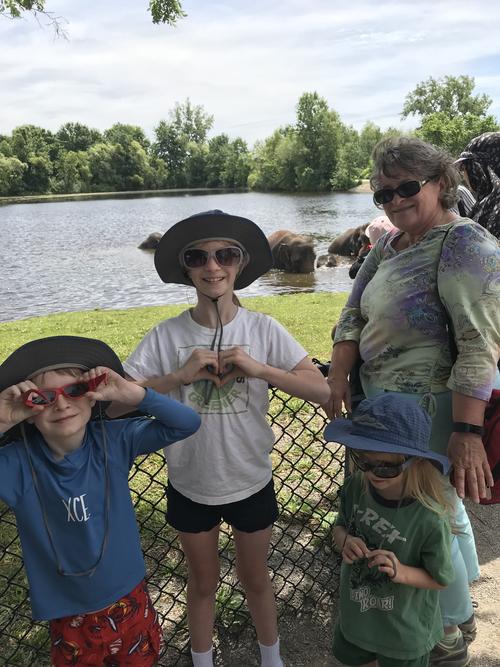 Visiting Aunt Mary last summer was one of the highlights of our summer. Trains! Elephants! Water parks! So we were not surprised to find out that the kids wanted to do it all again this summer when we started figuring out activities.
Via Rail was doing their cheap summer fares for kids again and Michael is not the best car traveller so I booked tickets to Kitchener despite some misgivings over taking four kids on the train by myself at 5am. Rob and Val very generously lent out their van for the week (!) and Mary managed to find car seats for Matthew and Amelia.
I made the kids sleep in their clothes and we packed breakfast AND lunch for the train. That made getting to the train much easier as we just rolled the kids out of bed into the car. Eating breakfast also provided a good distraction. We were lucky to score four seats together with a table and a business class train car despite our economy tickets!
We had to change trains in Toronto but we didn't stop to see any friends or family because I was too worried about wrangling the kids! The first train was fine and we even had compliments on how well behaved my children were. Elizabeth especially was a big help. The train to Kitchener wasn't as fancy but we still had our table.
The second train featured an epic temper tantrum from Matthew - I don't recall why beyond being very tired and overexcited - but I do recall being profoundly grateful that Elizabeth was able to hold Michael and entertain Amelia throughout as Matthew needed all my attention until he was able to calm down. Strangely no one complimented us on our behaviour this train ride, though Matthew did sort himself out.
Amelia and Michael fell asleep in the car but we stopped at "Diggerland" anyway, which had come highly recommended. Next door to a truly amazing looking waterpark that wasn't yet open for the season, Diggerland had some construction vehicles you could operate. Matthew adored it; Elizabeth not so much. She didn't like that she wasn't very good at it (in retrospect she should have started with the easier machine) and she felt very insecure sitting in the seat (apparently it shook). In any case, she let Matthew use up all the tokens trying out the various machines. Then we decided to play miniature golf. Elizabeth enjoyed this but Matthew found it frustrating. It was a beautiful course though. Eventually we headed back to the van and made it all the way home to the Hippo House.
We went to African Lion Safari again - but this time we got smart and brought our own picnic. Elizabeth was thrilled to see the elephants (again) and Matthew was thrilled to see his favourite (the cheetahs). Amelia thought the monkeys were the funniest. We budgeted way more time for the water park this year by popular request.
We visited Auntie Val and Uncle Robert's house, Great Uncle Roy and Great Aunt Esther's house, Great Aunt Deborah and Great Uncle Joe's house and Uncle John and Aunt Joanne's house.
We went to the park and the splash pad. We made pancakes and cookies (despite no oven!). We counted many horses and buried them again. (We also went to visit Great Grandma and Grandpa)
The kids were thoroughly spoiled by their various relations, especially Auntie Mary. Matthew is making plans to have a boat down on the pond, where he will live when he's a grown-up, along with Mary and Joanne and a large menagerie of animals. Elizabeth isn't going to live with him because of the spiders, but they are going to be trained spiders so will only spin their webs on command and will definitely clean up after themselves.
You might also like
- Summer Week 1 - Visiting
(0.48933)
- Snow, NAC, GNAG Halloween, dinner
(0.474281)
- Virtual school: Week 2
(0.462203)
- Homeschool wk apr 6-9
(0.462149)
- Whirlwind trip
(0.459499)
All