November 5, 2018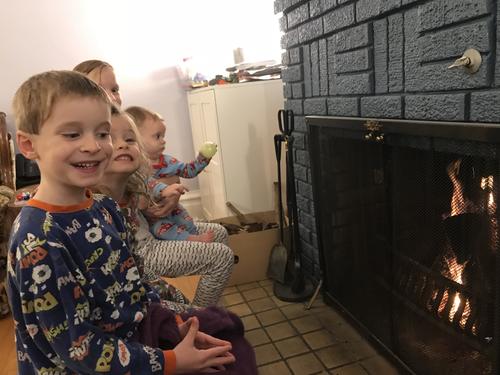 It's the fifth of November and the kids actually asked me when fire day was in November this year. It's the next exciting thing that happens after Halloween and switch witch, apparently.
Lorianne walked by and saw the fire and said "Oh it must be bonfire day" (or something like that). Apparently my excitement over Guy Fawkes has registered.
I was proud, even though the kids were more looking forward to the marshmallows than the fire. Michael didn't quite know what to make of the fire. Elizabeth reckoned he found it too hot. Yes, those ARE Girl Guide thin mints in lieu of graham wafers.
1
On December 5, 2018 at 07:45 am
Grandma Henderson
said:
Looks like great fun!


You might also like
- Deep Freeze
(0.345603)
- Sick
(0.321895)
- Family Day 2011
(0.314607)
- First snow!
(0.313253)
- Come Sing Messiah
(0.312404)
All