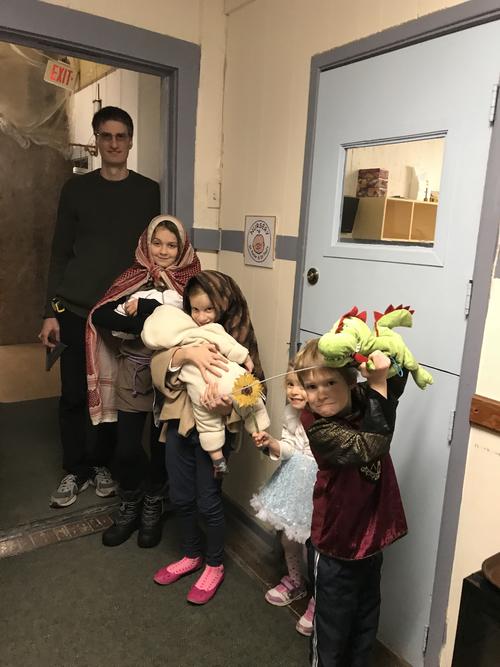 It was All Saints Day and we all duly dressed up for the annual procession. I was St Florian, Brendan was St Joseph, Matthew was St George, Amelia was St Audrey (I don't know why she carries a sunflower, but Amelia's primary request was to be a princess...) and Elizabeth and Michael were St Francis and his lamb. Elizabeth's friend Juno from church was St Mary, and she actually stayed overnight and came with us in the morning. Our junior church lesson was on Jericho. The kids had a grand time dramatizing it with the playdough and peg people.
We had grand plans for the afternoon - choir practice, an invitation to bounce on a neighbour's trampoline and schemes to go swimming...
But then Matthew was very subdued after coming back from Junior church and my "mommy sense" was pinging loudly. He said he felt like he might throw up, but that he could last until the end of church. Brendan and I looked at each other and decided we'd leave immediately, abandoning Elizabeth at church. Then I'd head back to church to join Elizabeth for choir.
We got home just in time to escort Matthew to the toilet. I tucked him in, took his temperature (38.5 under the armpit), set him up with Curious George and some water. Arranged lunch for Amelia and then I fled.
As Matthew put it, he "spent all the rest of the day throwing up" and because he had an "owie throat, it hurt a lot and was not much fun". He kept telling me he was hungry and I would offer him various options (mostly of the jello, soup and popsicle variety) but when it came to actually thinking about food he ended up decided he was too unwell to eat. He actually got to the point where he didn't want to watch videos or do anything but lie in bed and cry. Poor Matthew.
Aside from complaining his head hurt, everything else tallied with our kids typical strep complaints. Puking? Check. High Fever? Check. Sore throat (with pus)? Check. Strep smell? Check. Unfortunately Sunday afternoon is a terrible time to try to get a strep test, so not wishing to take him to emerg for a strep test we rode it out until the following day. Took the doctor about 15 seconds to reach the same conclusion I had and prescribe an antibiotic, to be taken three times daily for the next ten days.