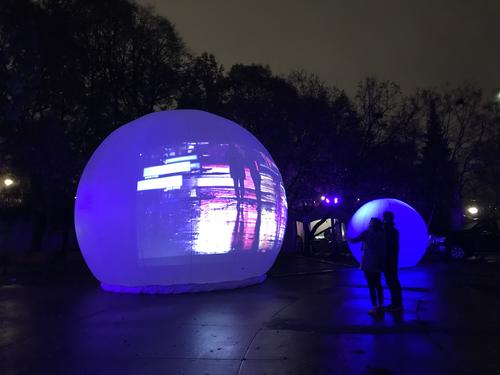 Margaret and I happened to walk through Confederation Park downtown on our way to/from our ballet yesterday, which is how I discovered the "Edge of Peace" moon garden exhibit.
Consisting of nine glowing orbs with images projected on the various screens, I decided it would be pretty cool to bring the kids (especially since there is currently free parking at city hall across the street!)
It's intended to be a tribute to the 100th anniversary of the end of the First World War. We stayed for the entire 14 minute presentation despite the rather chilly evening. The presentation itself was more abstract and artsy than educational, but the kids enjoyed it and there were volunteers handing out free pins which the kids may have thought was the best part. That and the "song at the end" which we got to hear as we arrived and left.