January 28, 2010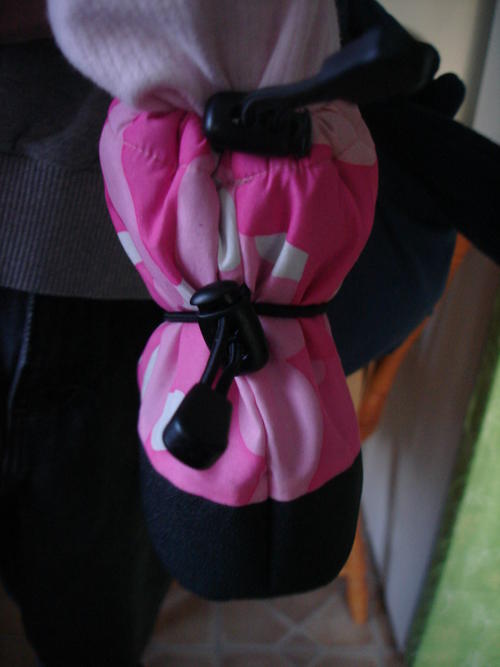 This wouldn't be a Canadian blog if I didn't talk about the weather sometimes.Our lovely +4 degree (celcius) temperatures having properly wrecked the canal, the temperatures have plummeted down to -22 (-33 with the wind!) and we're experiencing gusts up to 50km / hour. Auntie Janice was nearly swept off her feet a couple of times as she walked home. She kept her footing but our garbage cans made a run for it down the driveway and had to be sternly walked back.
Midday Elizabeth and I were minding our own business puttering around in the kitchen when all of a sudden it got very dark. To her great glee, Elizabeth has recently learned how to turn on and off light switches, so she looked around to see who turned out the lights. So did Mommy. Apparently Ottawa was in the midst of a sudden snow squall. It lasted only a couple of minutes but was very intense while it lasted (these are during and after pictures).
Since it is definitely winter, we're getting more serious about Elizabeth's winter gear. She's starting to tolerate the hat and we have figured out how to get the mittens on. Unfortunately she's figured out how to take the mittens off again so we usually end up with one mitten on and the other one off. She'd like to take the boots off too but our wonderful winter boots have two drawstrings which have so far outsmarted her. They were a present from my Aunt Mary who lives in Pangnirtung, Nunavut; I guess they know about winter clothing for babies up there!
1
On January 30, 2010 at 06:35 pm
Marie
said:
Looks very pretty but sounds too cold and windy to even play in.
2
On February 1, 2010 at 00:32 am
Childlife
said:
Brrrrrr!! That sounds cold - awesome photo though!



Mittens are so tough to get on. We had a trip to the mountains last week and trying to get mittens on our 3-year-old was like trying to shove wet spaghetti noodles into a straw.



Fun times, eh? :D



~Michelle @ 5MFSN
3
On February 1, 2010 at 07:25 pm
LiSA Pasquariello
said:
I get it...coming from another Canadian.

It's been soooo bone chilling cold here too.

My little guy chews his coat and then it's all wet and gucky...I think we need two coats..

thanks for stopping by my blog.

Lisa
4
On February 2, 2010 at 05:16 am
Veronica
said:
Oh wow, it's so pretty though! (Says she whose temperatures got to 33C here today)
You might also like
- River Oak
(0.389517)
- Je d'école
(0.389372)
- Party Bus
(0.381921)
- Erika and Maria
(0.381474)
- The Big Clock
(0.381471)
All