June 17, 2018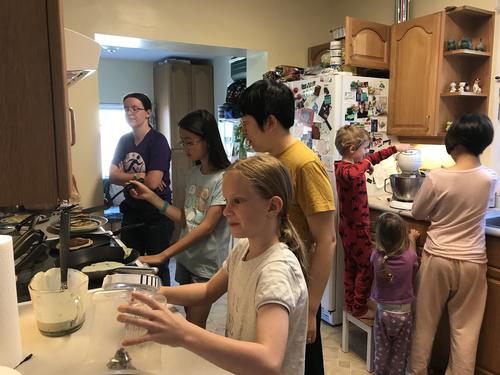 The kids were requested NOT to do breakfast in bed, so they decided to make a special breakfast instead of blueberry pancakes, sausages and fruit.
There was a special hospitality hour after church, so that's what we did for lunch. Father Jared, our curate, is leaving for his own parish. (He's pictured with Amelia choosing her candy prize for reciting her monthly memory verse)
We'd be sadder, except that Jared's replacement is Creighton!!! So Rachel is back from Texas and Elizabeth is ecstatic (although she's also mildly put out that we never actually sent her to visit Texas).
It was warm after church so we pulled out Amelia's paddling pool and spent some time jumping in and out. Elizabeth and Erika discovered that it was great fun to fling their wet hair in the air and spent an inordinate amount of time doing so. It was great fun to photograph too!
You might also like
- Wedding prep
(0.340307)
- October Food
(0.328767)
- Science by Night
(0.327027)
- Happy Birthday Daddy
(0.3241)
- Baby Summit 2015
(0.322904)
All