October 22, 2018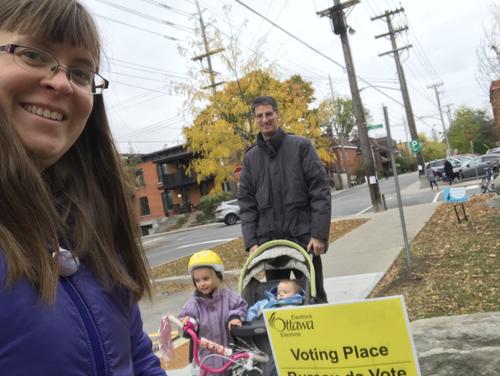 It was time to vote again. Elizabeth and Matthew were most indignant that we went without them this year, but it was awkward enough doing the baby exchange at the polling station thing.
Brendan and I had a tough time making up our minds this time round - there were five solid candidates, four of whom had extensive community experience. Ultimately Shawn Menard won, which Brendan had mixed feelings about since there are questions about whether he will be a good representative for us or not. Specifically, some family members were alarmed by Shawn's idea of extra taxation on "mansions". I was quite impressed by his communication skills as a candidate, but whether that translates into having a useful staff and getting useful things done is up in the air. Time will tell.
I spent a good chunk of the day exhorting those around me to go vote (and educating them on their options). Slightly amusing and awkward moment at karate when I was explaining to someone about how our provincial MPP (Joel Harden) had endorsed Shawn and our federal MP (Catherine McKenna) had endorsed Christine McAllister and it turned out that Joel Harden's kid is in Matthew's class and therefore Joel was standing right behind me. Small world!
You might also like
- Vote Ontario
(0.386085)
- River Oak
(0.383005)
- Party Van
(0.37587)
- Gingerbread 22nd edition
(0.371429)
- Old fashioned Christmas
(0.366584)
All