December 31, 2018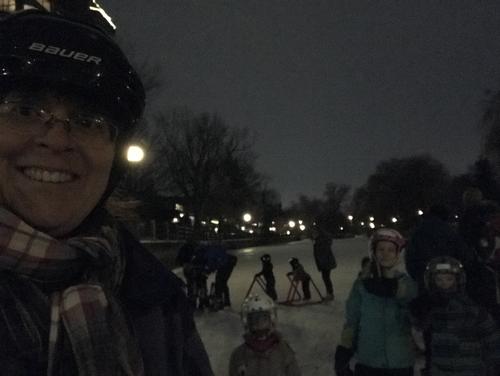 We drove home with only one stop (!) for Michael's first A&W burger pieces (stolen from Amelia). Matthew and Elizabeth had bacon and egger sandwiches, which Elizabeth liked and Matthew declared "too salty" and "too greasy" and unfit for consumption.
We arrived home in time to grab skates and head for the canal. Brendan kept baby at home while I bought some groceries for dinner and helped the other three lace up and skate almost the length of what was open. We went from Patterson to Pretoria to Pig Island and back to Patterson, stopping for a beavertail on the way home.
Amelia wanted to skate much further than anyone else wanted her to. She did skate from Pig Island almost all the way to Fifth before her siblings managed to talk her into getting back into the sled via a combination of pointedly skating many tight and unappreciated circles around her and catching her interest with a play where she was running a team of dogs...
The other two basically now skate as fast as (or faster) than I'm comfortable going myself, though Matthew did complain a couple of times that I should slow down since he's "like a cheetah - mostly fast but low endurance". Spoiler: he didn't seem to need much rest. My legs may be sore tomorrow!
We had sushi for supper as per Elizabeth's meal plan, Christmas chocolates for dessert and sparklers outside in the snow. Michael thought the sparklers were interesting. Then we did a countdown and went to bed - about quarter to nine I think so the countdown didn't coincide with any particular time zone other than that of the land of tired parents wanting to get tired children into bed stat!
You might also like
- Matthew's first skating class
(0.39596)
- Online groceries
(0.394033)
- Hike in the woods
(0.393189)
- Egg Hunt
(0.392607)
- 52 cm of Snow
(0.39135)
All