December 23, 2018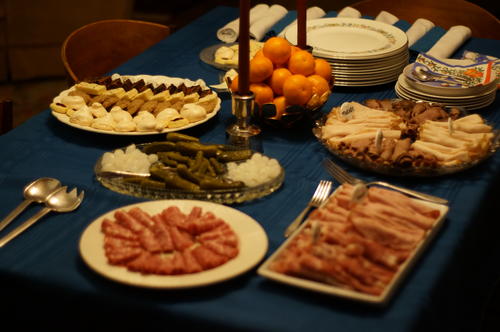 Annual raclette was exciting this year because Auntie Janice acquired her own machine for Janice safe cheese. She had her own table setup on the desk at Margaret's, though somehow we neglected to take photos of that. We also neglected to take any photos of melting cheese, though there were copious quantities of Swiss raclette to go with our pickles, meat, potatoes (and purple sweet potatoes), orange and cookies.
Also exciting was welcoming Chris and Yukiko back after three years away! Hooray!
My kids are starting to complain less about the cheese. Matthew still doesn't particularly like it, but he doesn't actually like any cheese most of the time. This was the first year that Elizabeth decided she actually likes raclette. Hooray again!
You might also like
- Skating and Swimming
(0.355932)
- Raclette
(0.355799)
- Quilt Show
(0.351825)
- Raclette
(0.345361)
- Butterflies 2014
(0.343499)
All