February 2, 2010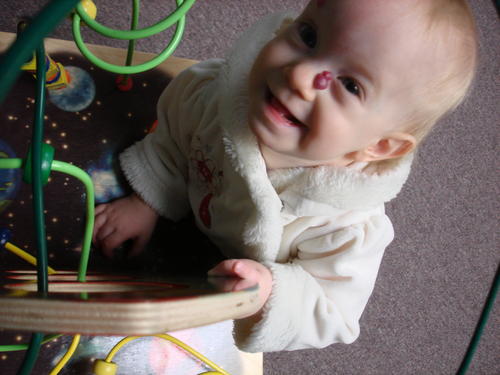 I was feeling completely cooped up Tuesday afternoon. A planned visit by my nieces fell through and my backup plan did too (the parent resource centre was closed by the time I got my act together between naps).
So I bundled Elizabeth into the car and headed to Cosmic Adventures, our biggest local indoor playground. We'd been to here once before with Erika but Elizabeth spent the time hanging out with Auntie Yukiko. This time Elizabeth was actually going to get to play! She still gets in free so I figured I should take advantage of this.
After a quick washroom break in their highly perfumed bathroom, we headed upstairs to the toddler area. Elizabeth was VERY uncertain. She's seen wall-to-wall carpet before, but seemed intimidated by the large expanse and didn't want to crawl around, explore or do anything except cling to mommy. I spent the first ten minutes wondering if this had been a mistake. Eventually she loosened up a bit and I took her over to the main play structure to play on the stairs. (She loves climbing our stairs, so I figured this would be familiar) She cried when she thought I might be leaving her alone. Then she realized I was still within two feet and stopped, sniffed and started climbing, whimpering at each step. It was so sad, but we hung out at the top of the playstructure for a while and she started to play with a couple of balls from the ball pit. Another little girl was playing nearby and her grandmother went past Elizabeth and said hello. "WAAAH" said Elizabeth, outraged that a stranger would acknowledge her existence. The poor lady was very apologetic. After getting her calmed down, I decided it might be best to get out of the playstructure and took Elizabeth down a slide into the ball pit. "WAAAH" said Elizabeth.
So we went out of the ball pit. Just as I was considering whether to give up, she suddenly decided it was okay to play here and happily went zooming around playing with various toys. Even the numerous larger toddlers coming up to her to try to give her balls (aw), take away her balls or pick her birthmarks off her head didn't seem to phase her. By the time we left she'd plunged into the ball pit on her own and was happily swimming around in it among the feet of three other moms and their kids while we all fished around trying to create space between the kids and prevent grievous bodily harm.
We were there for an hour and a half (two thirds of which she enjoyed!), and I was considering whether this might be an activity to do a bit more regularly. And then a kid who was clearly under the weather showed up and climbed up into the playstructure, coughing louder and louder until he vomited all over. Six other moms spontaneously decided that playtime was over, including myself.
1
On February 5, 2010 at 01:45 pm
Marie
said:
I'm glad you stayed and Elizabeth warmed up to the place. We have that sort of thing happen a lot with us. We are going to check a new indoor playplace soon so I may be posting a similar story soon. :)
You might also like
- Butterfly Adventure
(0.441558)
- Family Day
(0.43208)
- The Big Clock
(0.4288)
- Broken nose
(0.42807)
- Museum of Nature
(0.420902)
All