December 6, 2018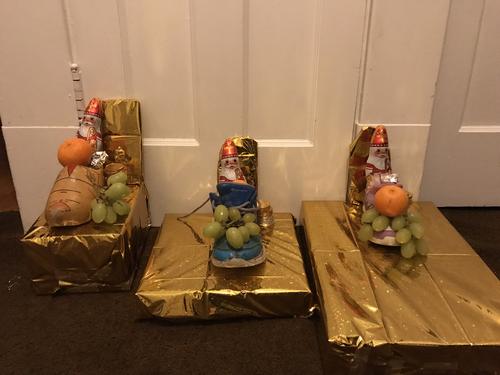 We decided to keep the kids home for St Nicholas day, so that we wouldn't be opening toys and then shooing onto the bus right away, and then coming home and going immediately to karate. Seemed a bit harsh to not allow any playtime at all.
The kids (and Lorianne and Janice) started opening the shoes in the dark but we heard them and came down to investigate.
I was pretty excited this year because I found European candy for the shoes.
Elizabeth received a make your own video game kit "Bloxels" which was a HUGE hit. It's surprisingly sophisticated, even if you don't actually need the box part at all except to unlock content in the free app. Elizabeth used the physical pixels to create her own character and then switched to using the ipad exclusively. She's having a grand time
Matthew received another drone, to his great delight. His sisters are less pleased as his ability to control leaves something to be desired, and his inner imp can't quite resist buzzing as close to them as he thinks he can get away with. This drone is enclosed in a cage, so hopefully it will take him a bit longer to destroy than the last one.
Amelia received a leapfrog reader, which was a great hit. She and Matthew spent a very long time figuring out all of its secrets.
Michael received a trilingual turtle that you can stuff balls into and they pop out one of the exits. It's possibly a bit advanced for him but he likes it almost as much as the shiny paper it came in...
Auntie Mary came to visit as she's coming to sing the Messiah with us tomorrow. The kids were very excited to tell her that they didn't go to school because they were too busy playing with their new toys.
You might also like
- Social Distancing: Day 3
(0.421152)
- Virtual Piano Recital
(0.411702)
- Music
(0.409696)
- St Patrick\u2019s day
(0.409442)
- Fall summer
(0.407839)
All