December 24, 2018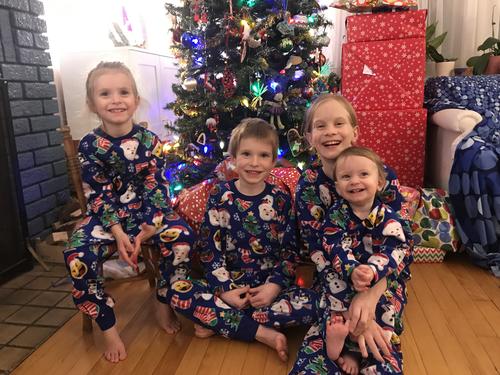 This year's spontaneous pageant featured a couple of speaking roles and this was so enthusiastically embraced by the kids involved that we might ask them to do it again with more than a day's notice!
Elizabeth agreed to play Mary even though her idea that Michael could play baby Jesus was denied. She did request veto power over Joseph. Amelia and Matthew really wanted to be angels and we tried to get Michael to be a sheep.
I was a bit stressed when all the kids charged down the aisle to the adult at the crèche waiting to put the characters... without the characters. So I had a box of porcelain and no one to carry them. Meanwhile Michael is frantically pawing at my shirt and Amelia is wailing because she was told to stop running "I can't fly" she sobbed to Rachel, who was wondering what the problem was.
Somehow it all came together, but Michael was not ready to be a sheep at the appointed time as he had not yet had his fill. He DID wish to be a sheep later in the service when it was not really appropriate for him to be crawling around in the aisles.
Once the play was over my angelic daughter decided that she was going to fly whether it was allowed or not. Turns out flying was running up and down from front of the church to the back, during prayers. Not very quietly. It was joyful but disruptive so I went to grab her and it was clear that I was not going to be able to get her without being really disruptive (she's getting fast!) so luckily my friend Jessie was able to help out. Kid did not reckon on me sending a proxy to catch her and she decided not to have a great big noisy fuss.
After church we headed home for fondue in front of the fire, and matching Christmas pjs.
1
On January 22, 2019 at 12:58 pm
Grandma Henderson
said:
Quite angelic! Great spontaneous pageant!


You might also like:
-
Christmas eve service
-
Plasma Car
-
Christmas Eve
-
Ski Club 4
-
Halloween