December 7, 2018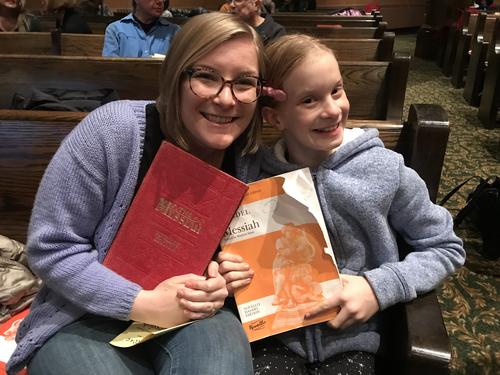 As usual, I made my kids come sing messiah rehearsals with me. Matthew and Elizabeth came twice, Michael came all three times and Amelia came once. I managed to drag Lorianne along once too! Michael was very well behaved the first time but I ended up singing by myself in the hall after he had had enough being quiet for the last two rehearsals. Oh well.
The big kids got off easy this year because the skating schedule conflicted with singing, so they actually only got to participate in the first half hour or so before they had to leave. Matthew wanted to skip skating and sing longer, so maybe next year I'll try harder to make sure nothing interferes.
There was no way we were going to be able to get Elizabeth home from tournament team this year, so I convinced her that she'd like to come sing too for her first time. So after ballet, we had supper and then met up with Rachel, Mary, Yukiko and Janice. Elizabeth is quite familiar with the music having come to rehearsals with me since she was very little, but opted to sing the much less familiar soprano with Rachel. I was a little worried she would be lost but apparently had an amazing time. I did opt to halve the singing time and skip rehearsal, figuring that four hours of singing as an introduction might be a bit much.
You might also like
- Come Sing Messiah
(0.44089)
- Come Sing Messiah
(0.418338)
- Come sing Messiah
(0.395738)
- Inhouse Tournament
(0.393548)
- Mother's day karate, spring fling and recital
(0.393064)
All