December 8, 2018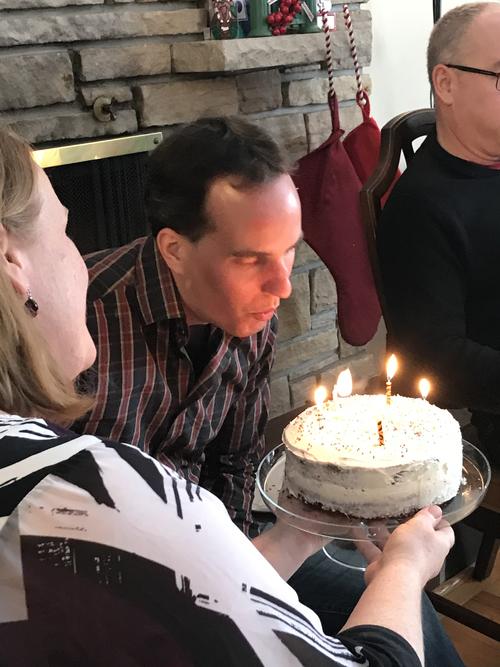 It was a party kind of Saturday.
After skating, I took the kids to celebrate my friend John's birthday - minus Michael who was under the weather and so stayed home with Brendan. Amelia played while the older two watched a movie (deemed too scary by Amelia). She was unimpressed by this decision. "You can watch movies at HOME!" said she indignantly. Matthew retorted "I can play with you at home too!" "But not with those toys!" Touché. In any case they didn't want to leave when it was time to go.
The kids were invited to neighbour Horatio's birthday and dinner party in the late afternoon and for supper, so shortly after we got home, we headed out again.
This time the kids did play with the toys. Horatio has lots of robots and other neat stuff, but Elizabeth's favourite toy was a magnetic drawing pad. I found this puzzling as she has the same toy at home and a few other similar ones, but apparently this was more exciting. Elizabeth and Matthew were double booked for supper at two separate venues; Elizabeth with her school friends Bianca and Samia (not sure who else), and Matthew with his friend Nico (Bianca's brother), so they had to leave early. Michael and Brendan stayed home again, but I did switch with Brendan mid-way through the party so that he didn't have to deal with sad snotty baby the whole time. I was a bit embarrassed that we ended up being kind of a revolving door kind of party guests, but we all had a good time at the party. Hopefully next time we can all come together!
I finally got around to making the Christmas pudding but since Michael was asleep by then and pretty disgusting I did not wake him up for the sake of "stirring". Janice and I also stirred, but no photographic evidence exists so you'll have to take my word for it. I felt last year's pudding was overly dry, so I vowed to follow the recipe to the letter (aside from gluten free flour of course) and loaded up on dried fruit like prunes instead of currants in the hope that it doesn't fall apart. Pudding charms were put in, but wrapped in foil in the hopes of not eating any this year.
1
On January 22, 2019 at 01:37 pm
Grandma Henderson
said:
So was the pudding moist this year? That girl can really draw!
You might also like
- Flying Squirrel
(0.405669)
- 5th Birthday Party
(0.405612)
- Halloween
(0.40557)
- March Break
(0.405243)
- Auntie Karen's birthday
(0.403191)
All