February 4, 2010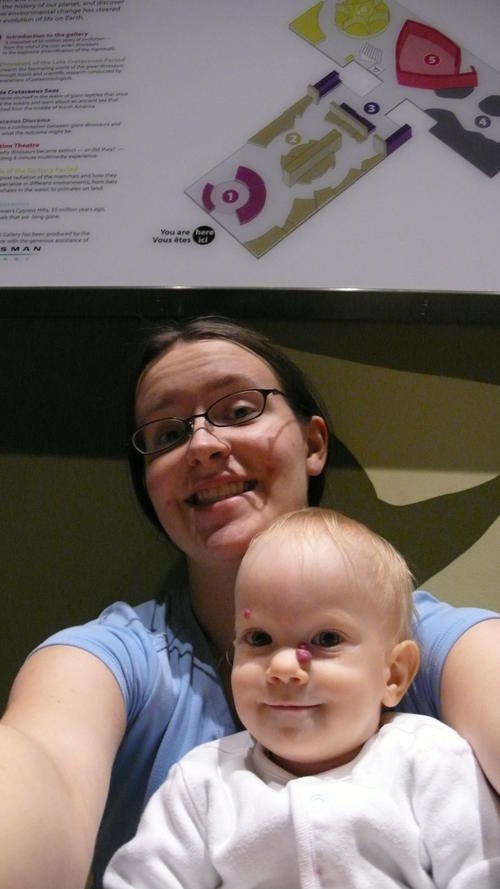 Guest Post!
Auntie Janice here... Today I had a study day, which in teacher's college means "a day where you can actually schedule a doctor's or dentist's appointment without missing classes or practicum". I wasn't organized enough to actually get around to scheduling such an appointment, so instead I decided to abduct my niece (with permission) and take her on our first ever field trip together.

The plan was to take Elizabeth to the Museum of Nature, scout out the exhibits before going with my Brownie Unit next month, and give Mom a bit of an afternoon break... so I bundled munchkin up (no easy feat since she's graduated into a new, fuzzier snowsuit that is bigger and harder to put on) and wedged her into the stroller.

And then I realized that there were stairs between the house and the sidewalk, an added complication that I hadn't anticipated. Once I'd gone very slowly down the stairs (with munchkin giggling at my efforts), it went pretty well, although I was surprised at how difficult it is to roll a stroller in light snow. It was a nice walk, and despite getting a bit mixed up as to the exact location of the museum, we did eventually get there.

Once there, I was impressed at the updates they'd made since last time. There was a very nice little cloak area right by reception, and tons of lockers for valuables. The staff were friendly, and had no trouble finding the right codes to admit me under the reciprocal agreement (I work at the Aviation Museum, so I am allowed to visit other museums to learn from them and get ideas). They even gave me a members collector's card, which is pretty cool. Elizabeth was quite happy to get out of the stroller, but a bit frightened by the feel and sound of the elevator.

We started on the 4th floor (Birds), which is my favourite exhibit because of the Northern Pygmy Owl (my favourite type of owl). They even have computers that plays the bird call of every bird in the exhibits. Elizabeth liked the touch screen a little too much, and it was rather loud because the exhibit was mostly empty of other visitors. I'm not sure what made touching the mallard wing SO scary for Elizabeth- I thought it was cool but she got very clingy all of a sudden... maybe it was the hawks and falcons that made her nervous.

Heading into the mammal exhibit they've put up a large iceberg, which is cool, but Elizabeth decided she would much rather just cuddle her face into my shoulder instead of face the scary polar bear. The polar bear fur was also far too scary to touch, especially after the mallard wing experience... But she did warm up to the "urban mammal" hallway, maybe she felt more at home hearing the familiar raccoon sounds instead of looking up at the bison and wolf diorama... She calmed down enough to play a bit of "let's chase the aunt" in the hallway, which made the Security Guard laugh at her unique crawling style. After the fun we tried on the costumes- and Elizabeth tried to pull them off :)

Our last stop was the dinosaur exhibit on the first floor, which has expanded to include a part up some stairs. Once again, Elizabeth was terrified of touching the manipulatives, but she calmed down once I let her play with one of the cool touch-screen computers. She also liked the security guard on that level the best: he played peek-a-boo with her, and said it was probably a good thing that she wasn't likely to touch the exhibits.

I'm excited to see what other exhibits will open up in May, but as it is I still love the Museum of Nature- we spent 2.5 hours there without really trying very hard. It has lots of things to touch and move around, and the big slow-moving elevator is perfect when there's more than one stroller in it. There are washrooms all over the place, which is good because the ones across from the elevator were being cleaned when I tried to use them. All I had to do was go around the corner into the lunchroom and use the family washroom, which was perfect- it had a nice changing table and enough space to maneuvre a stroller one-handed.

My only wish is that the museum's doors would become accessible- it was hard enough to open all doors with a stroller in one hand and a baby in the other, but I can't imagine how difficult it would be for someone in a wheelchair to try to open a door and go through it simultaneously. There are lots of ramps and accessible washrooms, but if you can't get into the building, the lunchroom, or any of the exhibits... it's not an accessible building.

I can't think of anything else to report, so I suppose I'll turn the blog (and the baby) back over to my beloved sister. Love ya sis! Janice out.
1
On February 5, 2010 at 02:04 pm
Marie
said:
Y'all sure sound like you have a lot of nice museums close by. That is fantastic. Sounds like a fun afternoon.
2
On February 10, 2010 at 10:36 am
Grama H.
said:
What a nice auntie! And what a great place to play.
You might also like
- Sewing with kids
(0.478152)
- Great Grandma Funeral
(0.476103)
- War museum
(0.475046)
- Homeschool wk may 4-may 8
(0.472716)
- Homeschool wk may 11-15
(0.472693)
All