July 24, 2018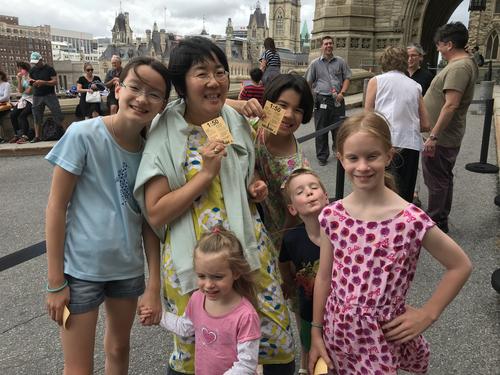 Yukiko thought we should go visit Parliament Hill as part of cousin camp. The timing didn't work out during camp, but I thought it sounded like fun so Yukiko and I made a date and went!
I was super glad we did, because we discovered that parliament is being CLOSED for ten to fifteen YEARS in the new year for renovations.
Here's some of the things we learned during the tour:
1) It only took eight years to build in the first place (Elizabeth, whispering "Why is it going to take longer to fix than it did to build?" Me: "Shhhh")
2) The House of Commons is moving to West Block. The Senate is moving to the Conference Centre. This is the first time that the House of Commons and the Senate will be in two physically separate buildings.
3) Four provinces (Ontario, New Brunswick, Quebec and Nova Scotia) formed the first parliament in 1867. We're in the 42nd right now. Nunavut is the last territory to have been made.
4) The walls have fossils in them. They are made of Tindale limestone from Manitoba
5) The House of Commons is to the left, the Senate to the right. The Hall is impartial and so is the library.
6) No one knows why the House of Commons is green, but the speakers chair is a replica of the British one. There's a tradition to drag the speaker to the chair because no one wanted to be speaker - nine were executed (not in Canada); it was a dangerous job.
7) Speaker of the house sits in the middle chair. The right chair is a throne for the Queen, the other one for her spouse.
8) The portrait of Queen Victoria outside the Senate is missing half her crown. It's been saved from fire four times, the last time it was cut out of the frame.
9) 1860 vs 1916 Fire from library destroyed the whole building. Doors are iron.
10) The most expensive book is "Birds of America". There are 11 copies in the whole world, worth $14 million dollars a copy. It's the size of a person and has all kinds of hand painted birds.
11) House of Commons seats are by population. We keep having to add new seats. Last time they added 30 new seats which was challenging because they couldn't move walls. Reno will address this problem. Senate seats are by region, not population, and senators are appointed, not elected.
12) There used to be a smoking room but now it's the salon de francophonie (they don't need a smoking room anymore)
13) The Peace Tower is the biggest building commemorated to Peace and has a carillon of 53 bells.
You might also like
- The Big Clock
(0.394262)
- La Machine
(0.387242)
- Virtual school: Week 2
(0.379567)
- Doors Open Ottawa 2009 - Traffic Operations
(0.377674)
- Doors Open Ottawa
(0.37751)
All