February 5, 2010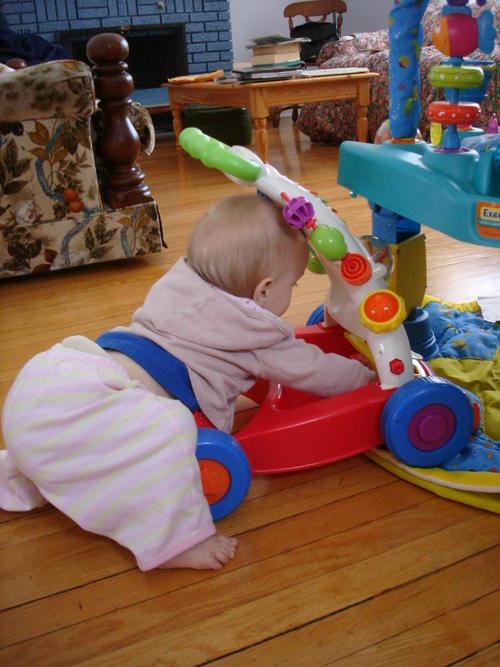 My niece Erika loves our "Cooking with Mama" wii game, so we helped her "crack" eggs, "stir" pots and "make" hamburger patties for an hour or so this afternoon. Then I got hungry and we went and made some real food for supper. Video game cooking with a nearly four year old is much tidier (we had a little accident with the sugar), but I'm impressed by how careful she is and a little frightened to realize that 'her' apron actually fits her now. Erika was able to make Grandpa J some Rice Krispie squares almost all by herself. She even stirred the pot on the stove all by herself though you can be sure I kept a close eye on her.
Elizabeth spent the afternoon alternating walking and push-crawling her push mower, which is suddenly a very popular toy. Her steering abilities are not very good (our poor paint!), but with some parental guidance the collision rate dropped dramatically. Erika was quite impressed to see her "walking" and even more impressed when Elizabeth accidentally tipped over backwards. Elizabeth's daddy swooped in just in time and caught Elizabeth before she cracked her head. "Uncle Brendan SAVED her!" she told me in an awed tone of voice.
1
On February 8, 2010 at 02:28 pm
Marie
said:
So glad "Uncle Brendan" caught Elizabeth. Those spills are no fun for kiddo or worried Mom and Dad!

You made me hungry talking about Wii cooking. I did not even kniw they had such games.
2
On February 10, 2010 at 10:33 am
Grama H.
said:
Enjoyed seeing how she walked with the toy last night on Skype.
You might also like
- Good Friday 2015
(0.354145)
- Spartan Mud Race
(0.353002)
- Good Friday
(0.352577)
- Quilt Show
(0.351145)
- Cottage Days: Support boat
(0.348865)
All