February 2, 2019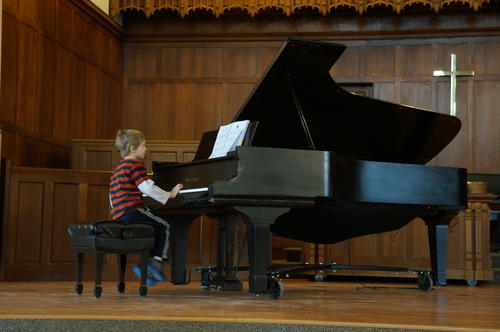 Winter recital time and Amelia did more than just stand there! Hooray!
Slightly rough start with both Michael and Amelia crying during the rhythm procession at the beginning. Apparently Amelia wanted to go on stage first before doing the procession and "you didn't let me". I think Michael got overwhelmed by all the people.
Things settled down after that though.
Matthew picked his piece because "it's my best piece". He had wanted to go back and play Deck the Halls, but it would have taken quite a lot of practice to get it back to a place where he could play it and I encouraged him to pick one of his current pieces so that we didn't have to do any extra practice. Matthew finds learning new pieces a tough slog unfortunately, although once he really knows a piece he's quite proud of being able to play it.
Elizabeth picked her piece because "I like the melody". She's recently become interested in jokes and is going around telling people many many jokes, some of which are funny, some not so much as she's working out what makes a joke funny. So for the first time she also submitted a music joke "What is Beethoven doing right now? Decomposing." Brendan is still working on not cutting off the first few notes of the piece when filming.
You might also like
- Come Sing Messiah
(0.428375)
- Virtual Piano Recital
(0.417676)
- Pie Day #2
(0.41358)
- End of an Era
(0.407543)
- 12 Days of Christmas: New Year's Eve
(0.403308)
All