February 5, 2019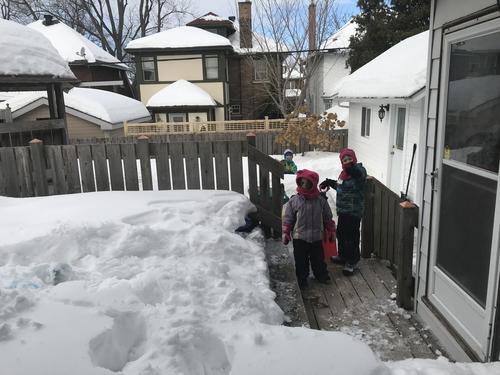 The combination of huge snowfalls, followed by freezing rain meant that buses were cancelled today for "ice".
We'd driven around enough in yesterday's conditions to know that we had no desire to brave today's so we declared school at home. "Hooray!" said Elizabeth. "Let's call it École LaGlace"
Usually I don't try to follow a particular schedule, opting instead to work through a list of curriculum for the day, but I've found that approach increasingly frustrating as the number of students has increased, especially since both Matthew and Amelia need a fair amount of focussed attention to get anything done and Elizabeth gets jealous if they "just" get to play. Plus I don't get any of my own work done.
Tuesdays are also usually Amelia's French class day, so I decided that I'd try following the normal school schedule (more or less).
I asked the kids to complete their piano before school started at 9am.
9-10:30 am We started out with some stretching and dancing en français. Amelia and Matthew decided they didn't want to do school and had meltdowns which almost made me reconsider keeping Matthew home. Elizabeth did some reading for about fifteen minutes while the other two calmed down, and then I explained how school was going to work and everyone got on board.
Block 1 was unstructured play time in French. Elizabeth got to watch Michael. The middles got to build with Lego. Everyone actually spoke French so Amelia got her regular French exposure. I went upstairs and did some work!
At 10:15 I came downstairs and led a circle time with songs and stories. Apparently we only own two stories in French that are really age appropriate for Amelia; might have to do something about that. We played a colour game where all the kids had to run from one colour to another on the rainbow carpet. Michael was tired and so I put him down for a nap while the kids helped themselves to a snack (still en français).
Then it was recess time outside. Elizabeth and Matthew played outside (still en français) until 11:30. Amelia got cold at 11 so I invited her in and we started a cooking class. We have a neat little video series for learning to cook. She's working through the beginner class and practiced dull knife cutting skills as her lesson.
When Matthew and Elizabeth came in I set them to doing their math. Matthew finished his really quickly and moved Elizabeth's math took a lot longer because she finds division tedious and she had a mini meltdown over how unfair it is that Matthew doesn't have to do division yet. Eventually she got over it and finished.
Then we had lunch. After lunch, it was second recess time. Back outside for everyone. Yes, even you Amelia! Second recess was shorter but no one complained because it started to get very windy and the temperature dropped ten degrees since the morning.
At 1pm I helped Amelia with her worksheets from Reading Eggs. She's practising writing (not colouring) but has very little patience with this so we don't do much. She was more interested in telling me about the sounds each letter makes. After she was done I set her up with the reading eggs app which was much more popular.
Elizabeth's cooking class is in the advanced level and she was practicing sharp knife skills cutting carrots and pepper's with a chef's knife. Once she finished she headed downstairs for "gym", which in our school looks a lot like karate practice. I helped Matthew finish up his cooking class which was practicing recipe reading skills. He's working through the intermediate level this term. He got to make two kinds of salad dressings.
Then it was time for science. We decided to talk about the states of matter. I got out an ice cube and we made rain with the kettle and talked about solids and liquids and gasses. After we finished up with art class. Matthew made a label for his salad dressing. Amelia coloured and Elizabeth did a mini unit on 1 point perspective.
Apparently it didn't go too badly because they are hoping for another ice day tomorrow.
You might also like
- Homeschool wk may 11-15
(0.492901)
- Homeschool wk apr 14-17
(0.483392)
- Homeschool wk apr 20-24
(0.482583)
- Summer School Summer
(0.475172)
- Crazy Pickles
(0.474162)
All