February 11, 2019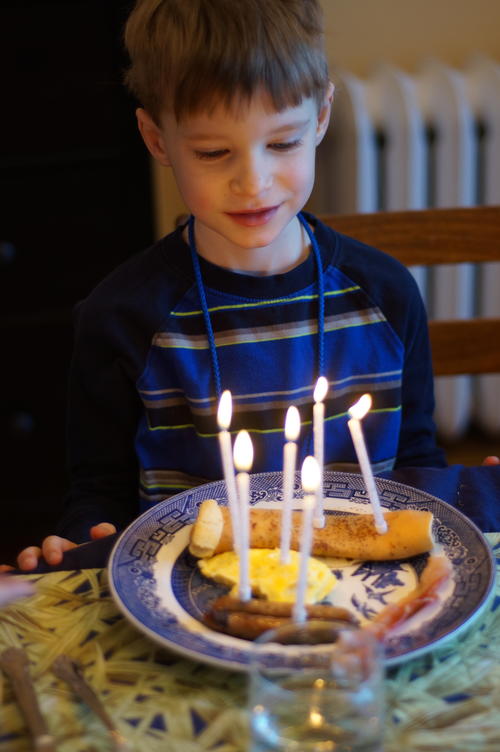 Matthew asked for chocolate pancakes, sausages, eggs and bacon for his birthday breakfast.
He was super excited to find his present from Lorianne, including a birthday boy name tag and some little paper stars that smell "so nice" (the tins had been used for tea).
He went to school so that he could do his piñata and to karate so he could get a birthday belt (we also went to Tim Horton's after karate as a special highly coveted treat!)
Shared food such as celebratory cupcakes aren't allowed at our school; instead each classroom is expected to develop their own rituals. When Elizabeth was in kindergarten birthdays got to make popcorn. Matthew's class invites the parents to send in a piñata with a few items per child that they then use for math class that day. We didn't do the piñata in JK but Matthew asked very nicely if we could this year. I sent in little packages of alphabet beads, compressed washcloths that expanded in water to regular size and . I gather any leftovers (eg if kids are absent that day) go in the box of surprises which Matthew gets to pick from when he's specially good.
It seems that he's very good at school. His teachers recently emailed me " C'est notre champion en lecture, écriture, math, écouter les consignes et très responsable à tous les niveaux." (He's our reading, writing, math and rule-following champ. He's very responsible at all levels)
I picked Matthew up early from school by special request and he spent the next few hours playing at home before karate. We had the leftover cake from his party and opened his presents from Auntie Janice (cooking magazine renewal), Mommy and Daddy and Grandma and Grandpa (Hospital lego!).
You might also like
- Summer School Summer
(0.421704)
- A beanie boo birthday party
(0.413793)
- At Mary's
(0.401437)
- Homeschool wk apr 20-24
(0.398644)
- Cooking
(0.396444)
All