March 16, 2019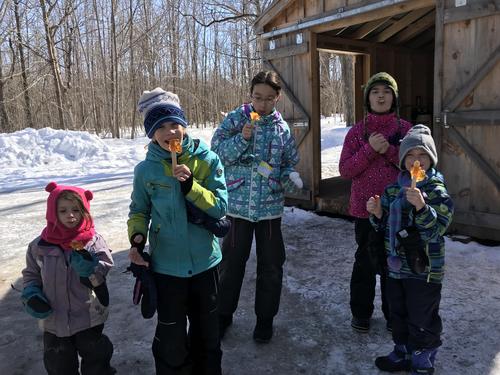 Monday was skating at TD place - randomly met up with friends from around the corner Bianca and Nico, and neighbours Simon and Mila. Elizabeth spent the whole time sedately skating around and around holding hands with her friends and chatting. Nico, Simon and Matthew ran races, played tag and tried to annoy the girls. Poor Amelia felt very left out most of the time. The boys tried to include her on and off but we skated for more than an hour and a half and that's a long time to skate at Amelia speed. We came home and went to the museum of Nature. Played in the boat, and in the birds and saw polar bears.
Tuesday was feeding not very hungry chickadees in the morning and sugar bush in the afternoon. Matthew did feed a chickadee but by the time one landed the battery in the camera had died so no photographic evidence. Too bad since he had removed his glove and found the sensation so startling he threw the seeds at the bird in fright. We slid down snow mountains, had a wagon ride and maple taffy and toured the heritage house at the Log Farm sugar bush. Everyone was once again surprised by how many people slept in such a small house. Then Erika was suddenly taken ill and threw up all over the steps (and in her hair!). At least she wasn't ill IN the heritage house! Needless to say we left shortly thereafter, though the other kids talked me into still letting them get beavertails to go. Matthew and I picked up some books at the library so that we'd have more options for circle time.
Wednesday the older two kids went to meet their new family doctor, courtesy of our AMAZING neighbour. Kids say he's nice. We went snowshoeing with Grandma in the afternoon. Erika was still sick but I decided I was up for going, so Daddy stayed home to nap Michael.
Thursday Erika was still sick, but Grandma and I took our older three and Maria skating at Landsdowne again. Bianca, Nico, Simon and Mila were all there again. Amelia and I ducked out after about forty minutes in order to take the youngest two to meet the doctor. Conveniently, Ottawa Public Health told me Thursday morning that Amelia needed a new chicken pox vaccine because apparently her doctor had screwed up the timing back in 2016 and the vaccine on file "doesn't count". The nurse was SUPER impressed that Amelia didn't even whimper - just held out her arm and took the injection like a trooper. It was pi day, so we made apple and chocolate cream pies for dessert. EVEN THOUGH IT IS LENT!!! The kids were ridiculously pleased.
Friday Elizabeth's friend Ruici came over and we went to the Museum of Science and Technology. There was a special focus on robots and neuroscience, so lots of interesting stuff to see and do that we've never seen before. We watched the cryogenics demo as well which the kids quite enjoyed. The crazy kitchen as always was a big hit. We tried going through with eyes open and eyes closed to see what kind of difference it made. Then we controlled robots with the electrical signals from our muscles (well, Elizabeth and Ruici did; Matthew and Amelia were too scared). There as a machine to measure reaction time (see a light, squeeze your hand; hear a sound, squeeze your hand). Elizabeth's reaction time after hearing something is MUCH faster than her reaction time after seeing something. The younger two DID try the skittle experiment (plug your nose, eat a skittle, unplug your nose and compare how adding smells enhances flavour). They also had one where Elizabeth got to buzz Ruici by squeezing her arm and vice-versa. They thought that was funny. Back home we did playdough experiments. I coloured and scented each one and then they had to tell me what it smelled like first blindfolded and then when they could see. Matthew was quite convinced that all the green ones were mint, all the yellow ones were lemon and the pink ones were vanilla. I was impressed by Elizabeth's ability to figure out the smells.
In between activities we managed to do some school as well. Elizabeth made good progress on her karate essay and is finally getting more comfortable with her division. Matthew has started the subtraction unit. All indications are that he's going to breeze through to the next book quickly as it is "too easy". Sadly he does not find piano too easy. In exciting news: he's starting to read! He adores writing and reading little notes. His notes currently don't have many vowels which makes deciphering them rather like reading a secret language, especially when some are in english and some in French! They all spent some time helping Amelia with her French.
You might also like
- Homeschool wk may 4-may 8
(0.478542)
- Family Day
(0.475443)
- Homeschool wk may 11-15
(0.475186)
- Great Grandma Funeral
(0.474924)
- Double Digits
(0.473508)
All