February 8, 2010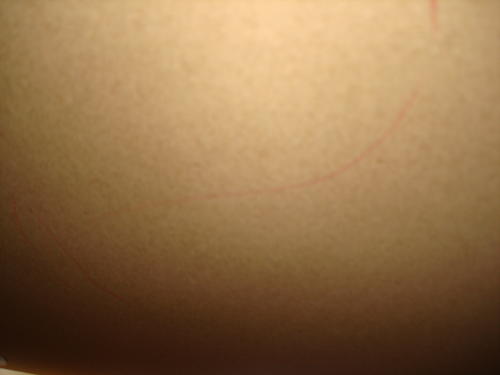 "To lack an education in the arts is to be profoundly disconnected from our history, from beauty, from other cultures, and from other forms of expression" (Larson, 1997)
"A painter takes the sun and makes it into a yellow spot.
An artist takes a yellow spot and makes it into a sun. (Pablo Picasso)
"Imagination is more important than knowledge." (Albert Einstein)
"You can't depend on your judgement when your imagination is out of focus." (Mark Twain)
(All quotes are from my sister's art textbook "Arts as meaning makers", which she is using as part of her studies to become a teacher.)
Someone once told me that the best way to foster a love of art was to start early, so that's my excuse for letting Elizabeth chew a variety of art supplies. That and the recommended approach of allowing Elizabeth to create artwork with her cake doesn't need any encouragement...
We tried a Valentine's day colouring sheet this week. Actually, Elizabeth loves to "colour" with pencil crayons and I'm fascinated watching her figure out what mom is trying to show her. She's starting to understand that the crayons make marks, but frequently tries to use the wrong end. She also spent a lot of time trying to pick the colour that I had put on for her off the sheet, before giving up and deciding to eat the paper. At the end of our art play time there was very little crayon on the sheet but she was having so much fun making music with the pencil crayons that mom let her keep them for a few minutes while she talked on the phone.
This may have been a mistake as Elizabeth finally figured out how to draw quite a beautiful line... on the underside of my desk. Daddy wasn't impressed, but I'm keeping it forever.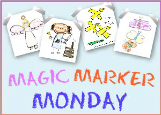 1
On February 8, 2010 at 10:38 pm
debi9kids
said:
What a sweetie and you're never to young to start art :)



LOVED the quotes as well.



ps To answer your question, I found my homeschool group by searching online :)
2
On February 10, 2010 at 05:41 am
Grandpa H
said:
Honestly, drawing on the bottom of a desk and messing your food around the tray of the high chair is not 'art' by any meaningful definition... ;)
3
On February 10, 2010 at 10:12 am
Grandma H.
said:
Aw Grandpa, "beauty is in the eye of the beholder". I'd say it's rather artistic!

(He's obviously never recovered from the time Elizabeth's mother drew a long line in crayon all the way down the long hall in La Hulpe.)
4
On February 10, 2010 at 10:43 pm
Childlife
said:
LOL! I have stick-figure sharpie-marker people doodled on the inside of two of my dining room chairs' legs. I didn't have the heart to scrub them off either ;) Elizabeth, you're a girl after my own heart -- chocolate and art together -- doesn't get any better than that! :)



~Michelle @ 5MFSN
5
On February 11, 2010 at 03:08 pm
Marie
said:
I completely disagree with Grandpa H! I think Grandma H may have a little insight there. LOL!

Elizabeth is a budding artist! And I would keep the pencil mark too!



BTW, don't know if you'll check back for my response to your comment so....

the shopping cart weight limits are to prevent tip-overs. You've got a long way to go yet on that!
You might also like
- Playdough
(0.441336)
- Christmas Cards and Crayons
(0.436249)
- Painting; Take 2
(0.425598)
- Arts N Crafts
(0.418581)
- Aqua Doodle
(0.403209)
All