March 2, 2019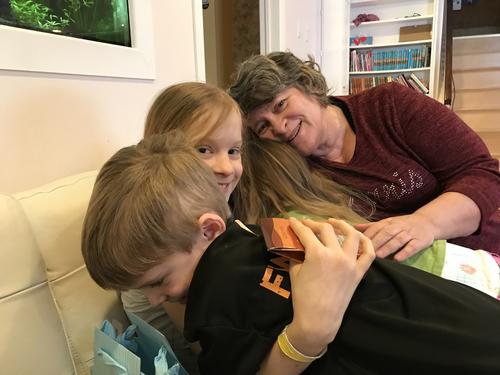 Auntie Mary came down to visit for Elizabeth's "family" birthday party but unfortunately Elizabeth came down with stomach flu and so we had to cancel the party. She did open Auntie Mary's present, complete with spy ink message that Matthew helped write.
Elizabeth was very sad. She had a black belt stripe test the following day and was very worried. I asked the sensei whether she was expected at her mandatory class Saturday afternoon and was told that she could rest up on Saturday, but she should come in the following day unless she had a fever. I thought that seemed a little intense but luckily she was feeling quite a bit better so we didn't have to make any tough decisions.
In order to minimize contact with our sickie, Mary and I took the younger kids to the farm where we were amused to find they were feeding the ducks "can o crickets".
1
On May 17, 2019 at 12:43 pm
Grandma Henderson
said:
I like my crickets canned, too. That way they don't hide all over the house, lol!
You might also like
- Wedding prep
(0.368116)
- Skating and Swimming
(0.352593)
- Douvris Halloween
(0.345566)
- Doors Open Ottawa: Library distribution
(0.344371)
- Party Day
(0.343864)
All