February 10, 2010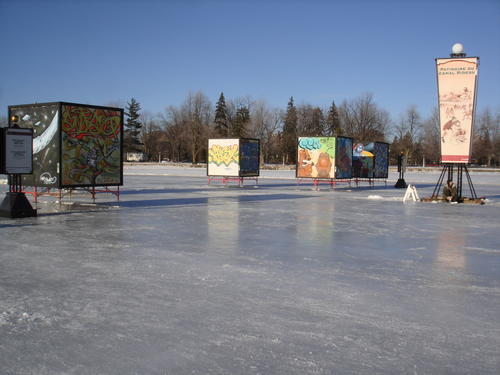 If my pictures seem to be mostly of canal the last week, that's because I've skated on the canal so many times this year I've practically lost track. Even managed five days in a row, with a blister to prove it. While she still dislikes her snowsuit intensely, Elizabeth seems to enjoy being out and about. She'll often lie still (on her back!) to have her snowsuit put on in anticipation of our outing now.
I hesitate to blog about it in case Elizabeth is reading but three weeks after my post about dealing with strangers there are signs that Elizabeth may yet learn to make friends with the world, or at least our immediate family.
Exhibit A: Hanging out at Grandma J's, Elizabeth crawled over to Grandma and asked to go "up". Then she sat on Grandma's lap eating a cookie.
Exhibit B: Uncle Chris was able to hold Elizabeth for a few minutes while I put my shoes on.
Exhibit C: Our friend Angie from England was visiting for a few days. Elizabeth got Angie to help her into the exersaucer (no crying even when touched by a stranger!)
This? Is a vast improvement.
1
On February 12, 2010 at 02:03 pm
Grama H.
said:
The ice looks positively lovely! Great motivation to get into a snowsuit. Don't worry, Elizabeth will yet make friends with the world.
2
On February 18, 2010 at 02:31 am
Marie
said:
Woooohoooo Elizabeth and mom!
You might also like
- Strawberry picking
(0.37834)
- Butterfly Show
(0.376404)
- Christmas Cake 2012
(0.36725)
- Christmas
(0.366029)
- Water Baby
(0.364817)
All