June 2, 2018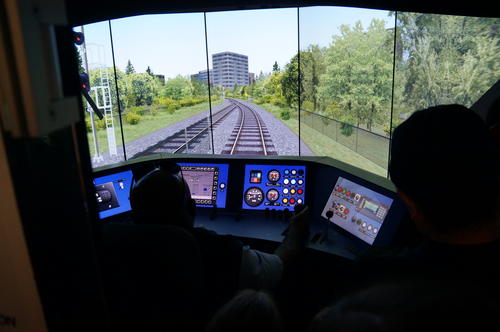 Today was also doors open Ottawa.
We went to check out the train simulator for the new light rain trains. The drivers are being trained using it so that they will be ready when the tracks are finished being laid.
While waiting in line to get into the building with the simulator we had a chance to check out a few of the buses used over the years. The kids were most amused by the old bus from 1958. They said the back was really different because the seat went all the way across the back. It also had a box for money instead of presto which they thought was odd. Wheelchair bus seats that fold up and seat belts. That bus was really small.
Finally we got in to see the train stuff. Apparently a single train holds 300 people.
The train driver said there are two engines in each train. Hardest thing about driving the train simulator is staying focussed. He can only drive for about 15 min and then gets nausea in simulator because real train has bumping and noise from movement but in the simulator you aren't really moving and that throws off your senses. There were two train simulators at either end of a mini train in the building.

Matthew: It wasn't moving.
Amelia: I did like that moving part.
Then we went to visit the Elections Canada center. They prepare and distribute all of the materials for each election. Dedicated Canada Post trucks take containers to the various ridings. All by road. Very remote areas they contract locally with planes and helicopters. There are 20,000 polling places. After each election it all comes back to this building. Takes year to plan but mandate is to be ready all the time
Four years of preparation. They keep ballots for 10 years. Securely shredded after 10 years by bonded companies. That's 17 million ballots right now. Ballots are colour coded by type e.g. special, advance, regular. Colour of materials can't overlap with a party colour. For the next election they are changing the size of the pencils they distribute. While the tiny ones are space and weight efficient they are a pain to use. They think through little details like how using a round sign with an arrow and words all around can simply be rotated instead of square sign with words at top or bottom which would need to be printed with the arrow in different orientations to point the correct way. This means less waste and less shipping. They also had an old table which had been used to prepare materials up until 2007. It had a washing machine motor in the middle which would spin it around and the people around the edge would each add their part to the bundle.
You might also like
- River Oak
(0.405719)
- Nationals
(0.403737)
- Virtual School: Week 10
(0.403061)
- Homeschool wk june 1-5
(0.399696)
- Virtual school: Week 2
(0.396603)
All