February 16, 2010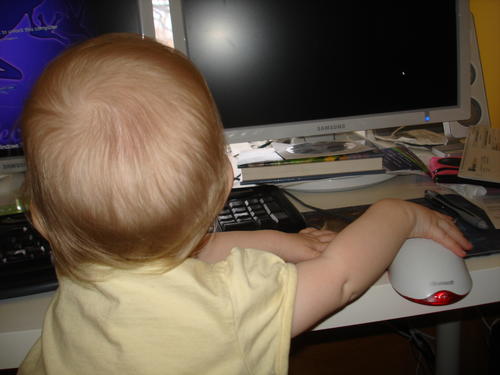 I was really looking forward to this past long weekend, as Ottawa had numerous special events scheduled in celebration of weekend two of Winterlude (Friday - Sunday), Family Day in Ontario (yesterday), and Heritage Day in Ottawa (today). We could have gone for a sleigh ride at Billings Estate, edible fort building at the war museum and there were some fun things to do at City Hall.
Alas, Elizabeth started coming down with a cold and by Saturday evening it was obvious she wasn't feeling her best. To add insult to injury, she is teething. By Sunday evening she was crying on and off, passing out for a few minutes at a time before accidentally inhaling a booger and waking up screaming. She was so uncomfortable that my heart might be permanently cracked.
Then she started to throw up and she was really miserable. We think the combination of stuffy nose, mucus and drool were too much for her little tummy, but regardless of cause it continued all day. She only got me twice but eww! Let's just say I considered whether short hair might be a good idea.
She didn't want to do anything but sit on Mommy's lap for most of Family Day with big fat tears rolling down her cheeks. So we sat in front of the Olympics while she wailed and nursed. I rocked and wiped her nose and held the bucket for her. Daddy fetched us things and did the laundry. By the end of the afternoon she felt a bit better and played with Daddy for an hour while I slept and we even got our first smile of the day when the skaters on TV waved back at her.
Today was better but our poor little girl is still quite miserable. So miserable that we are basically letting her do whatever she wants (even play with mommy's computer - the ultimate in treats!). Even so the smiles are few and far between.
1
On February 17, 2010 at 10:59 am
Grama. H
said:
A very subdued Elizabeth...hope she's feeling better soon. Sending lots of hugs and kisses.
2
On February 17, 2010 at 04:53 pm
Rachel@GraspingforObjectivity
said:
Bummer!! There's nothing more pitiful than a sick baby. I hope she feels better really soon!!
3
On February 17, 2010 at 06:21 pm
Grandpa H
said:
I guess it's understandable, and just as well that there are no pix with this post... So sad - but we're very thankful she's getting better!
4
On February 17, 2010 at 11:24 pm
Mary
said:
Don't know why the photos didn't show up but I've re-copied them now and it seems to be working.
5
On February 18, 2010 at 00:45 am
Janice
said:
Awwww, poor Elizabeth and poor Mom and Dad. I hope she's better and that you and Brendan have been able to get some sleep.
6
On February 24, 2010 at 01:33 am
Marie
said:
Those are tough tough days! I hope those teeth pop through soon and give Ms. Elizabeth a break!
You might also like
- Children's Museum
(0.4)
- March Break
(0.389781)
- Cumberland Heritage Museum
(0.388571)
- Grand Reopening
(0.387439)
- History Museum
(0.387203)
All