March 31, 2019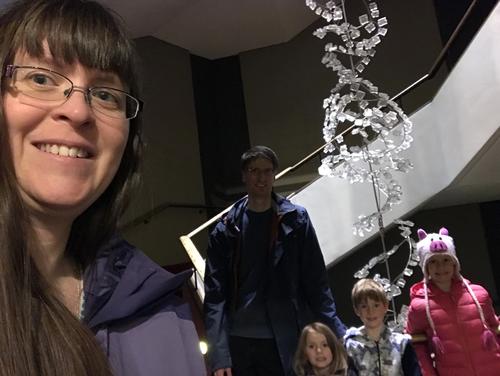 Erika and Elizabeth decided they needed a sleepover after Greek Night. Erika came with us to church and was super helpful wrangling many small children while Elizabeth and Daddy went to a climbing birthday party. Daddy would like to point out that he didn't go to the party; he spent much time driving nearly 100km to go to and from Gatineau.
After church we dropped Michael and Erika off at Sunnyside and the rest of us headed to the NAC for a show about aliens. Specifically we saw Orchestra from planet X, which had a couple of mimes as aliens. We enjoyed it very much and the kids have all agreed that we should do this music subscription thing again next year. The kids had the chance to try out wind instruments before the show. Amelia was too shy to try any but Matthew and Elizabeth were coaxed into trying the bassoon, oboe, clarinet, and trumpet. Elizabeth really enjoyed the clarinet. Neither of them were able to get any kind of sound out of the trumpet so they had new respect for the trumpet players they heard later!
Auntie Yukiko had to work and Uncle Chris had to drive Maria to and from a birthday party that afternoon so hardworking Erika watched Michael by herself for a short time and even managed to convince him to have a nap!
After we'd retrieved Michael, we were lucky enough to be invited out for a wonderful dinner at the neighbours.
You might also like
- Snow, NAC, GNAG Halloween, dinner
(0.397849)
- Double birthday
(0.394105)
- Happy Birthday
(0.38269)
- Party Day
(0.376096)
- A zoo party
(0.375151)
All