April 6, 2019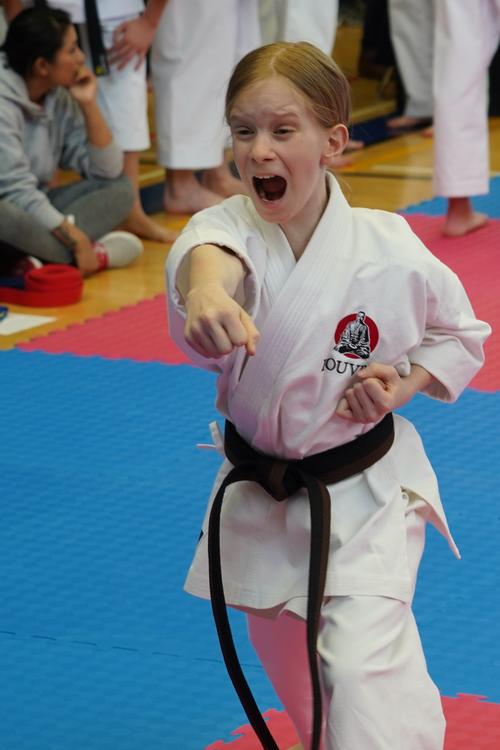 With the WKC world championships in Niagara Falls this year we thought it might be amusing to give the provincial qualifiers a go. Provincials were in Burlington so Daddy and Elizabeth drove down on Friday and stayed over in Toronto with Auntie Muriel. We got to visit with Lauren and Donna and their kids as well which was lots of fun. Saturday morning we dashed off to Burlington bright and early to register and weigh in. Unlike other tournaments the provincial qualifiers don't split competitors by belts only by gender, age and weight. As these are basically the best karate kids in the province the majority of the people there even in the youngest age bracket were brown or black belts.
First up was kata. After her last tournament Elizabeth had decided to try competing in both hard style and classical style kata as well as the usual point sparring. The hard style division had 19 competitors and Elizabeth did not make the top 8. She said her foot went to sleep while waiting to compete and so she actually started her kata and then started over (!) They get everyone to do their kata once and then take the top 5 to move on. The remainder get a second chance with a different set of judges. The top 3 from the second round (averaged with their scores from the first round) also qualify. Classical style had slightly fewer competitors (15?) and Elizabeth ended up tying with her teammate for 6th. They were supposed to have a tiebreaker but neither of the girls were sure they knew a second classical kata so after consulting with the lead judge they were both allowed to go through as 6th. As we understand it this was good news for 8th place who would otherwise have been bumped to 9th. Everyone was absolutely thrilled that they qualified as we had gone into the tournament with no expectations of qualifying seeing as this was Elizabeth's first time competing at this level. As it happened Elizabeth does know a second classical kata so she doesn't need to learn a new one for nationals.
Then came sparring. With only 6 girls in her age/weight category they all automatically qualified but still got to face off for medals. They drew for pairings and the two girls who drew 5th and 6th got to face the winners of the other two pairings and fight for double bronzes. I don't quite follow this logic but that's how it played out. Elizabeth ended up fighting the eventual gold medalist (who was also a previous national team member). She managed to put in a very competent fight despite the extremely tough opponent. Additionally unlike her two good friends on the team managed not to get kicked in the face. Daddy was greatly relieved. She was thrilled with the super official looking medal to add to her growing collection.
Guess this means we are going to the national qualifiers in May!
You might also like
- Nationals
(0.486786)
- WKC Nationals
(0.481778)
- WKC Worlds
(0.471751)
- WKC Provincials
(0.46789)
- WKC World Championships
(0.464589)
All