May 5, 2019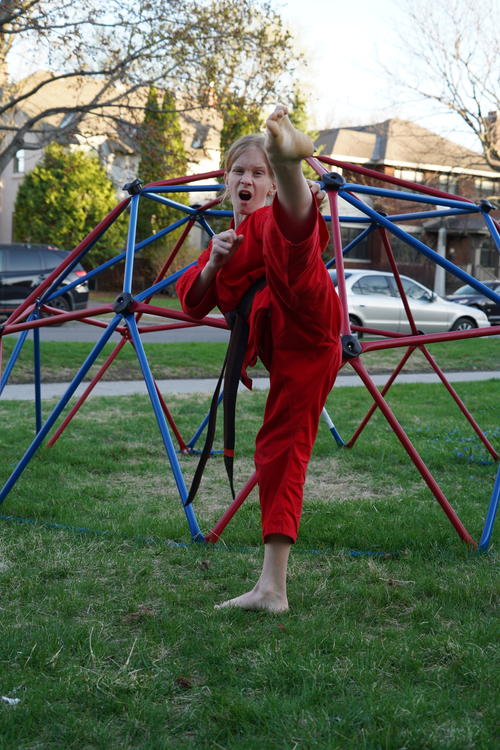 Elizabeth passed her red stripe test! We are going to have a black belt in our house...
As part of her black belt preparations Elizabeth needed to write an essay answering the question "How has karate impacted your life?", which you may read by following the link. We talked about what an essay was and how we needed an introduction and conclusion, but other than that I tried hard to stay out of it. I was fascinated to discover that Elizabeth naturally plans her writing in advance - first bullet points, which are then fleshed out into sentences and finally paragraphs. She wrote three drafts out by hand prior to typing them up.
She wanted to put a cover page on the essay and was very excited to find that Word does this sort of thing for you.
I resisted "improving" it, aside from pointing out obvious spelling errors. I'm biased, but I think it's a pretty darned good essay from a ten year old, even if it does rather read like an advertisement for Douvris. She's pretty into karate, in case that wasn't obvious.
1
On May 12, 2019 at 07:35 am
Pastor Michelle
said:
Congratulations, Elizabeth! What a wonderful essay about friendship, strength, confidence, and leadership. Thanking God for you!
2
On May 12, 2019 at 10:04 am
Grandma Henderson
said:
I love your essay, Elizabeth! Well written.

Those are some pretty impressive pictures, mom.
3
On May 12, 2019 at 11:51 pm
Joanne D Bender
said:
Wow! Elizabeth! Congratulations on your amazing karate accomplishments and your super essay! I'm proud of you!
4
On May 13, 2019 at 06:35 pm
Friend J
said:
Congratulations, Miss Elizabeth!
You might also like
- Red Stripe
(0.357337)
- The birds and the bees
(0.348193)
- Social Distancing: Day 5
(0.347174)
- White Belt
(0.345455)
- New doctor
(0.344458)
All