August 27, 2018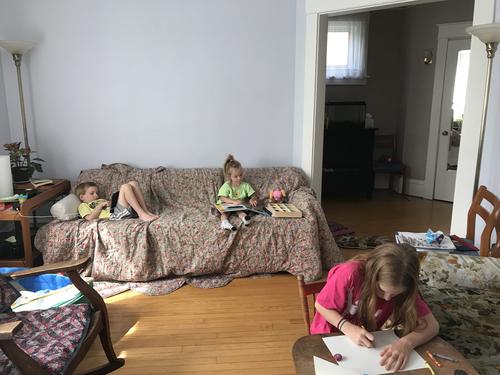 Although Elizabeth and Matthew are sure their teachers told them that "les vacances" are for "relaxing" and "forgetting about work", in our family summertime is for homeschooling.
Elizabeth requested that she learn calligraphy, lots of art and cooking. Matthew wanted to do science that involved flying airplanes and to learn cursive. Amelia wanted to do crafts.
I wanted Elizabeth to start Math U See Epsilon (fractions) and Matthew to work through Math U See Alpha. I figured I'd go over the Pre-K materials with Amelia for the Canadian Curriculum Press that I did with the other two on the grounds that it's not a terrible way to practice writing letters and numbers.
I had plans for some drama and visual art. We wanted Elizabeth to improve her research skills. We wanted Elizabeth to learn to type. We wanted to work on Elizabeth's spelling and Matthew's French. We wanted to introduce some basic computer skills. We wanted to talk about health, specifically puberty (since Elizabeth is showing signs of hitting this stage long before we are going to be ready).
Getting through Delta before the start of the summer proved too ambitious. I threw that idea out the window and concentrated on teaching division very slowly and methodically. She knows the mechanics but clearly does not "get" what's going on underneath. Matthew has been working through Alpha. His fine motor skills have been an obstacle in terms of writing but he is really enjoying doing "his" math so we persevere with some extra math on the iPad (Starfall, monster math) to ensure the writing part didn't get too frustrating. Amelia doesn't really have the fine motor skills to write numbers either and although she desperately wanted to do math too she wasn't terribly interested in the materials I had prepared. Her math ended up mostly looking like playing with math blocks and doing Starfall math. Not the end of the world.
I don't have any calligraphy skills and Matthew was clearly not ready for cursive. So we just skipped those for this summer. We didn't do any airplane science either - so much for child-led learning! We did do a lot of arts and crafts, and science. We did a bunch of Canadian history as well. I tried on the drama but the kids were not amused. We read a lot of French books and watched some videos in French. I took out many books about the human body and puberty and we had some chats with the kids. I had Elizabeth and Matthew work on a summer journal again. This year Matthew was required to write a sentence for each entry. Our summer journals were much more hit and miss than 2017.
Elizabeth did learn to type using the BBC Dance Mat program. Daddy did a couple of little sessions on basic research and computer skills as well. Overall I felt that I wasn't as prepared as I could have been and the results reflected that. Dealing with the baby and three different levels at the same time was extremely challenging and probably that's why we ended up doing so much art and science. I do think that on the whole I'm reasonably satisfied with the progress we made.
You might also like
- Summer School Summer
(0.463704)
- Virtual School: Week 35
(0.44281)
- Grade 1 update
(0.439856)
- Virtual school: Week 4
(0.438003)
- Summer school week 1
(0.4375)
All