April 22, 2019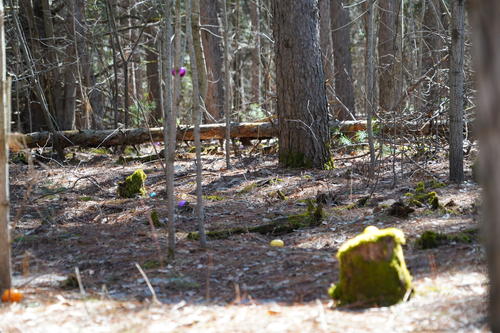 Elizabeth went on a playdate with her friends Olivia and Samia but the other kids played together - mostly outside - all morning. In the afternoon Grandma J came and picked up the girls and drove them to Nepean Sportsplex for our hunt. We had previously promised the extra spaces in our van to the neighbours from across the street! All told we had 19 kids join us egg hunting. The sharp eyed will notice no Aidan or Dianne as Aidan was recovering in hospital after being seriously ill. We were very sorry he couldn't come but glad to see the rest of the family.
It was pretty exciting to finally meet Heather's dog Joey, but of course the real excitement was the magical discovery of eggs growing in the woods. (Never gets old!)
The trail was muddy and slightly underwater in one place but not nearly as bad as I had feared and I think everyone had fun.
You might also like
- Easter egg hunt
(0.366492)
- Easter Egg hunt
(0.345921)
- Amelia visits the playhouse
(0.339005)
- Camping
(0.337516)
- Easter Egg Hunt
(0.331675)
All