May 19, 2019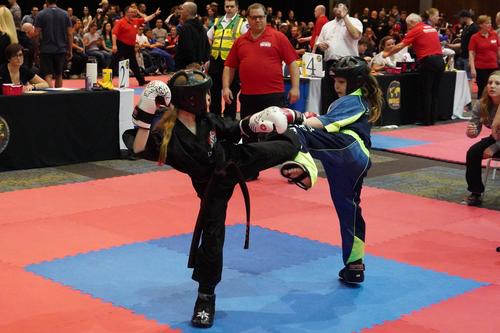 Elizabeth competed at her first nationals competition this weekend. We were moderately worried about her competing at the national level. Due to the size of the competition and the importance of placement in determining who gets to move on to worlds the format was a bit different from what we were used to. All events are split into two rounds and the rounds are held on different days. This gives the competitors a chance to recover and regroup if they have a bad round. This also meant that this occupied pretty much our entire weekend. Elizabeth qualified to compete in both classical kata and sparring. Friday was kata round one and Elizabeth did very well. One judge scored her as third place. Overall she placed 7th.
Saturday was round 2 of kata and round 1 of sparring. While her kata seemed to be on par with her first round the judges felt otherwise and scored her lower. Overall she finished somewhere around ninth. Between kata and sparring Mommy had the clever idea of visiting the museum of History (the old Civilization) across the street. This provided a great distraction and change of scenery. Mommy then stayed at the museum with the kids while Daddy and Elizabeth went back for sparring round 1. Of course they were running behind schedule and so by the time she actually got to fight three hours and twenty minutes later the museum had closed and the kids had lost their collective marbles. It was a brilliant idea in theory, and would have worked if the normal number of competitors had shown up! We're guessing that since Worlds are not overseas this year more people were interested in qualifying!
Sparring round 1 Elizabeth drew the odd spot out of nine competitors and lost her only match. She had trouble figuring out how to score against her opponent and couldn't really hear her coach over the extremely loud noise. Towards the end of the match she found a weakness and scored a couple of quick points but it was too little too late.
Sunday was sparring round 2. She had an absolutely amazing match and traded points back and forth forcing overtime with 2 seconds to go in regulation. She then managed to get up a point over her opponent and was one point from winning. Sadly her opponent scored a quick two points and took the victory. Elizabeth said she got tired in overtime, prompting some teasing about needing to improve her conditioning. Retorted Elizabeth: "You wouldn't have lasted ten seconds!" (She's not wrong...) In the end it turned out that her two matches had been against the gold and silver medalists! Having missed beating the silver medalist by one point we were beyond impressed.
Throughout the weekend the camaraderie of the team was pretty amazing. Elizabeth had a wonderful time rotating around with her team figuring out where and when various teammates were competing and then making sure they could cheer everyone on! Our original thought was that Elizabeth and Daddy could perhaps come to church with the rest of us after her second fight if it finished soon enough but Elizabeth was scandalized at the thought of not staying to cheer on her friends. Olivia kicked her opponent right off her feet! There were some pretty intense moments. The younger kids and I went off to church (there was a baptism! we got cake!) and even made it back in time to watch sensei Cody crush his opponent 10-0.
Overall it was a great experience and solidified our sense that Elizabeth has earned the black belt she's about to get in a couple of weeks. She is quite the force to be reckoned with and has a lot to be proud of.
You might also like
- WKC Nationals
(0.486809)
- WKC Provincials
(0.486786)
- WKC World Championships 2022
(0.478367)
- Karate Tournament, Birthday and ER Part 2
(0.46426)
- WKC World Championships
(0.462219)
All