May 25, 2019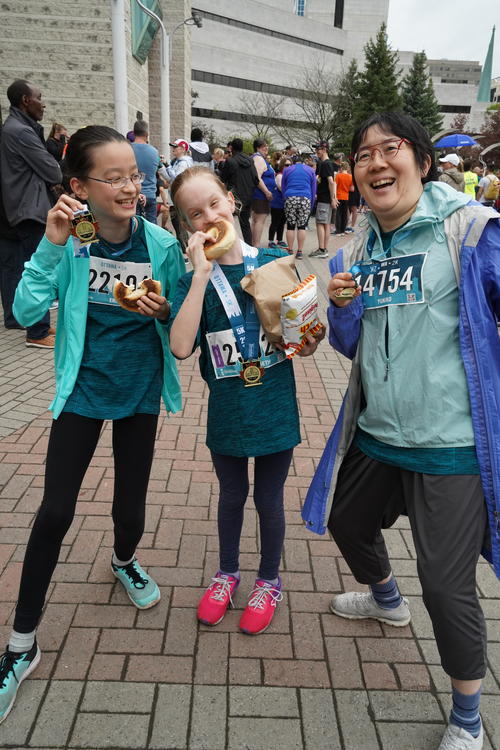 Race Weekend is hotly anticipated around here. Matthew was looking forward to getting TWO medals. Elizabeth and Erika were excited about running their first 5km with no adults to slow them down.
I had reluctantly concluded that I couldn't run this year. After breaking my toe twice this winter it has been slow to get back to normal and I can really feel it after too much standing or running. Matthew needed a running buddy for the two km race though, so Brendan was thinking about stepping up. He really wanted to take photos though, so when we discovered that Yukiko was willing to race he decided to be official photographer!
Unfortunately, after dance on Friday Matthew suddenly told me his tummy hurt. We went home quickly and ascertained that 1) he didn't want to go to sparring (hmm) 2) didn't want his cookie from dance ("too sugary") 3) didn't want supper.
He started throwing up not long after. We like to quarantine our pukers from the healthy kids (one drawback to sharing a room with siblings!) so we stuck him on the basement, where he did his thing apparently all night and without needing parental assistance! Elizabeth is such a deep sleeper she frequently vomits in her sleep so I am profoundly grateful Matthew has reached the stage of mostly using the toilet and washing out his own bucket.
In any case he continued to throw up regularly all morning while insisting he was going to race. Auntie Yukiko arrived around 1pm to find him dozing on the mat in the bathroom. He told her he was not able to race, but a few minutes later we were surprised when he came downstairs dressed in his race shirt all ready to go. Or as Elizabeth pointed out later - he kind of flopped on the couch real pale and lethargically announced he was racing - not at all his usual self. We all looked at each other and then I told him he could have unlimited screen time but he wasn't racing. He was very sad.
I dropped the girls and Brendan off downtown for their races and went back home. Elizabeth and Brendan escorted Yukiko to the start line and cheered her on! She finished in 14 minutes, which is the same pace as Matthew and I did last year! She is clearly a better runner than I because she felt after that 2km "wasn't so long" whereas I was tiiiired. We'll have to try running together sometime.
Erika and Chris showed up then and the lot of them saw Erika and Elizabeth off on their 5km race. Janice and Amelia meanwhile came to cheer too, while I looked after the boys at home. Brendan says he ran his own race getting photographs - his phone claimed about 8km worth of movement!
The girls ran an enjoyable but leisurely 5km in about 39 minutes, which was their target time that they trained for. I should add that the training was entirely self driven and they did it all by themselves since I wasn't able to run with them this year. They started and finished holding hands so that neither would be ahead and stopped at every water station. They were clearly not tired at the end!!!
They were greatly amused to discover that the 5km medals were bigger than the 2km medals. Everyone had fun despite the sprinkles of rain and are already plotting their next races.
You might also like
- Family Day
(0.45319)
- Family Day
(0.448591)
- Social Bubbles: Day 89
(0.44703)
- At Mary's
(0.443492)
- Virtual school: Week 2
(0.442899)
All