May 12, 2019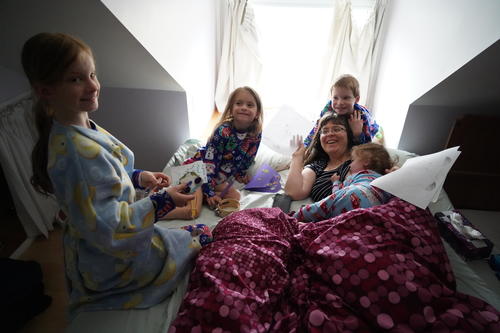 The kids brought me breakfast in bed. Elizabeth apparently wanted to serenade me with the violin while her siblings did a dance but said siblings didn't cooperate. So she played me a private song later.
We went to church and then we picked Grandma Margaret up for a lovely lunch at Uncle Chris and Yukiko's. Daddy went and helped his friend do some wiring. I'd planned to chill at home while Elizabeth and Erika practiced their running, but Auntie Karen texted to say they were going to the tulip festival and would we like to meet up?
I checked with Yukiko to see if we couldn't talk all the cousins into tulip photos and suddenly we were all meeting at the tulip festival. It was a bit hairy getting there. Amelia and Matthew brought their scooters and Amelia managed to let hers get away from under her. There's a steep hill between our house and the festival on Carling and she literally did a somersault down the hill, narrowly avoiding landing on the busy road. I may have shrieked. Luckily no harm done.
We found cousins and they were duly photographed. Maria wasn't too happy to have to come as she had just come with her mom in the morning. The kids all felt we should have bought cotton candy like we did last year but the tulips were beautiful and the sun was shining and I had a lovely time.
Erika and Elizabeth did go for their run. When they got back the kids decided they needed to build a rat trap. There were copious amounts of peanut butter and very elaborate contraptions constructed. We will see if we catch anything.
You might also like
- Spartan Race
(0.396552)
- Good Friday 2015
(0.39528)
- Halloween
(0.39481)
- Race Weekend (2km, 5km)
(0.393186)
- Missed the bus, Concussion, Matthew gets a stripe
(0.392822)
All