June 9, 2019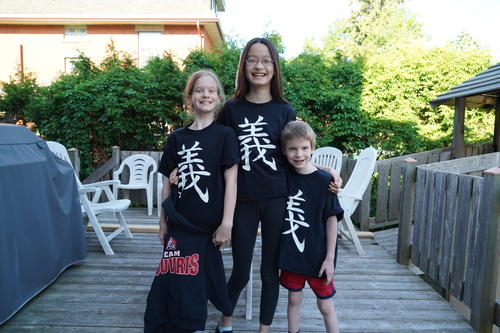 Elizabeth, Matthew and Erika all signed up to compete at the inhouse tournament. Maria sadly was too nervous; perhaps as she gains confidence in her skills she might try it out.
Matthew competed against 18 other little boys using his latest kata. It is a little loose but he put in a solid effort. Unfortunately Daddy had technical difficulties and did not manage to video it, so I got Matthew to do a replay for me later at home. We reckon he came middle of the pack, although they only rank the first three positions at his level so hard to know for sure. He was quite content with his "cool medal".
Erika was competing in her first tournament and was happy to discover she was in an event of only two people so guaranteed gold or silver. She took double gold, but unfortunately her sparring gold was by virtue of no competition. She put in a wonderful kata to take the gold.
Elizabeth was competing for the first time as a junior black belt, and also took double gold (three competitors for kata and two for sparring). She was ecstatic as it was her first time getting a gold. "I won fair and square!"
You might also like:
-
In house tournament
-
Inhouse Tournament
-
Virtual InHouse
-
KMC Tournament
-
Come Sing Messiah