June 7, 2019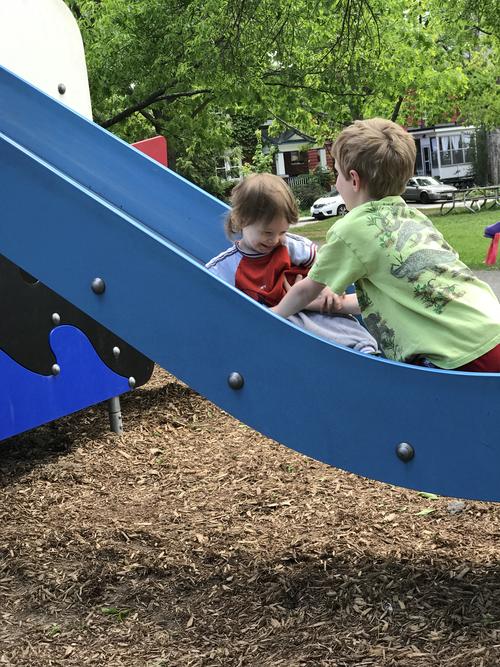 Elizabeth and Matthew had a PD day today. Elizabeth had a playdate at Samia's so once Daddy was ready to watch Michael instead of working on our furnace room I took the two older kids on a bike ride to Old Ottawa South.
Elizabeth is still terrified of riding on the road with cars even along quiet streets near our house, so the ride to Samia's was more an endurance event with soundtrack of slightly hysterical child whining about how much she hates biking than the fun outing some of us were hoping for. Samia's mom suggested we try the bike path along the river on the way back which was actually much better although it involved a longer stretch along Bronson. Bronson is technically a highway and has vehicles zooming along at 80km/h but the bike path is physically separated from the road with flexiposts so Matthew and I decided that Elizabeth would probably like it better. Matthew loved the whole adventure, although he wished we had brought a picnic and had had time to play in every park we passed. Doing so is now on his summer bucket list.
After lunch, while Elizabeth was still at her playdate and Amelia was at school, I took the boys to the park to play. Matthew really wanted me to ride my unicycle to the park. Next time apparently Amelia has to come too but on her tricycle so that we can have one wheel (unicycle), two wheels (his bike), three wheels (the tricycle) and four wheels (the stroller).
Elizabeth and Samia shot each other with water guns while bouncing on the trampoline and played in the park and generally had a wonderful time.
The bike ride home with Elizabeth was much better, so I guess we'll have to stick to bike paths for a bit while she works on getting more comfortable.
You might also like
- Ollie Otter goes swimming
(0.402709)
- Flying Squirrel
(0.395261)
- Summer school week 2
(0.395189)
- Virtual School: Week 39
(0.395117)
- River Oak
(0.39304)
All