April 7, 2019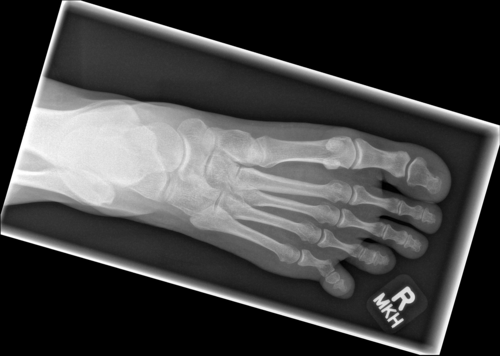 For those of you who like to see pretty bone pictures, behold my xrays, officially obtained at exhorbitant prices because I wasn't allowed to take a photo. Technically I wasn't allowed to look at them either, which seems dumb to me but whatever.
Anyway, second set of xrays still shows a break but was "healing well". So of course I kicked a chair in the dining room and broke it again today.
I did not get a third set of x-rays to confirm but the pain and bruising pattern was identical so I am quite certain it was fractured. At least I didn't need to reset it this time.
1
On June 14, 2019 at 02:38 pm
Grandpa H
said:
You are your mother's daughter... Trust it heals well once again!
You might also like
- Family Day
(0.300501)
- Spring Piano Recital
(0.293548)
- One week
(0.293333)
- Camp Otonabee
(0.293003)
- Capital of extremes
(0.29223)
All