June 2, 2019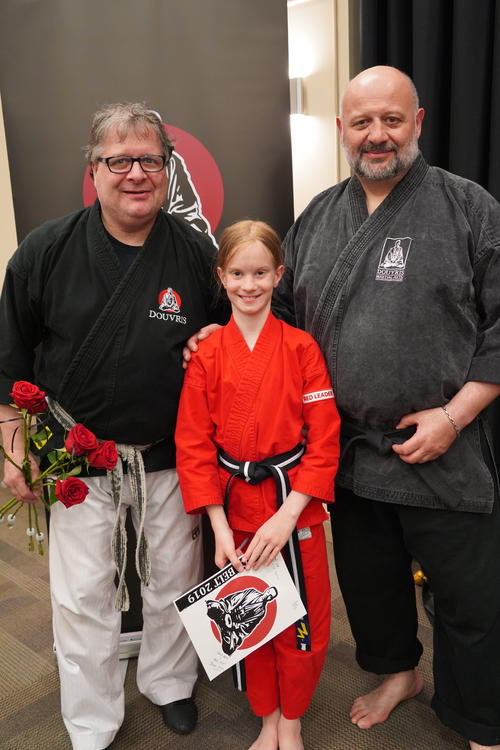 I have been having a reoccurring nightmare that Elizabeth would come down with stomach flu Saturday night and be unable to attend her black belt ceremony, so I made Elizabeth go to bed early much of the week.
This morning she came bouncing upstairs to tell me that my dream did NOT come true. For some reason the message that we ought to get there early for seating did not get passed on. Elizabeth actually didn't tell us until the morning of that she was supposed to be there early, which led to a little bit of stress!
However we made it and even found some chairs. Our whole family plus Grandma J, Uncle Chris, Auntie Yukiko, Erika, Maria, Auntie Janice, Uncle Mark and friends Dianne, David, Aidan, Caitlyn and Evelyn all came to watch.
They put on their show and got their new belts and then the newly minted black belts got to give out roses to the person that supported them the most on their black belt journey. Elizabeth gave hers to Sensei Cody. Then she went around getting pictures and signatures from various other senseis and generally had a grand time.
Now she gets to learn "the fun stuff", apparently. Many people asked her whether she's done. Her goal is to get a couple of degrees and then evaluate. She does think that maybe she doesn't need to go to the dojo five or six times a week next year, so as to carve out a bit more time to just chill. We're definitely on board with that!
You might also like
- Rideau River Provincial Park Camping
(0.408714)
- Grading for a brown belt
(0.400213)
- Camping
(0.4)
- Erika and Maria
(0.389506)
- Thanksgiving
(0.384942)
All