February 28, 2010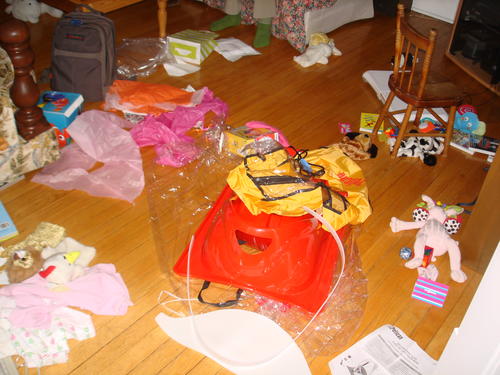 When you were one you had just begun...
It hardly seems like yesterday when you were brand new, little girl...
Mommy hasn't been home much the last week but you've adjusted like a real trooper. Mom and Dad even had to work on your birthday, but we still managed to have a fine party with all your family.
"Flat" Grandma and Grandpa H skyped in from Portugal and we sang Happy Birthday. Cousin Erika helped you blow out your one (digital) candle. Somehow we didn't get any pictures but I'll never forget the look on your face. You opened present after present. Your beautiful dress came from my sailing friend Mike. A sleeping bag from Grandma and Grandpa J. Clothes from Uncle Chris and Auntie Yukiko. Books from Auntie Janice. A singing drum and chirping eggs from our neighbours. A beautiful sled and a special made-just-for-you card from Uncle Dave and Auntie Karen. Alphabet tub letters from Mommy and Daddy. A plethora of animal hand puppets from cousin Heather, including a lion that prompted you to roar when asked what sound it made. Your parents are pretty proud of you! Your favourite present of all might have been the gift card from Ray. If you had your way you'd keep it to chew on forever!
1
On March 3, 2010 at 00:59 am
Marie
said:
Oh wow, she's one already!!! Happy Birthday Elizabeth! I am so proud of you adjusting to your mommy being gone. She still loves you just as much as ever!!!!
You might also like
- Happy Birthday
(0.382105)
- Erika is FIVE
(0.381714)
- Happy Easter!
(0.379024)
- Happy Birthday Daddy
(0.37468)
- Party day
(0.364621)
All