June 27, 2019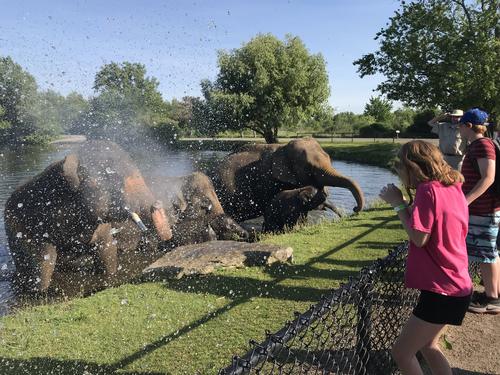 Going to visit African Lion Safari is now tradition. We watched the elephant show for the first time, which was fun but not as fun as watching them have a bath and a lot hotter. Even the ice cream and the umbrella didn't really help.
I contemplated driving instead of taking the bus this year (skipping the destructive monkeys) but everyone agreed that we thought that the bus was fun and seeing monkeys is fun so we did the tour as usual. The animals all looked hot, especially the lions who were all lazing around in whatever shade was available looking like puddles of fur. The one rhino had taken over the shaded area that is usually full of goats. They didn't look happy. Actually the rhino looked a bit unhappy too, with lowered head and pawing the ground. I was glad we were not driving next to him even though it appeared it was the other animals he was crabby with and not really the cars.
Amelia's favourite animal this year was the monkeys. It was a really good day to spend at the splash pad and we were glad we allocated extra time here even if it meant that we didn't get a chance to ride on the train for once.
The elephant rides were closed due to a "serious incident" with a trainer a few days prior to our arrival, so we had no ethical dilemmas about whether to permit rides or not. We of course had to watch the elephants take their bath and it was extra fun to see the babies. Elizabeth got sprayed by the elephants and loved it, even though her siblings pointed out that she essentially got covered in elephant snot.
You might also like
- Spartan Race
(0.390346)
- Hike in the woods
(0.390164)
- At Mary's
(0.387774)
- Plasma Car
(0.383138)
- Sheep Shearing
(0.382872)
All