July 7, 2019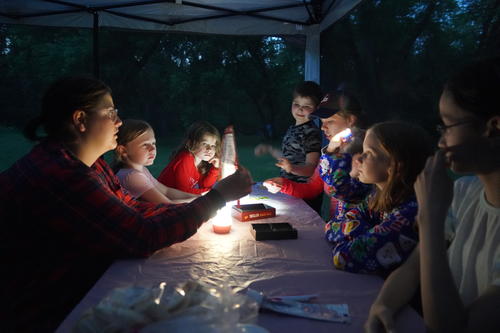 We went camping!
We were 18 overnight Friday (our family, Dianne, David, Aidan, Caitlyn and Evelyn plus Caitlyn's friend Jasmine, Auntie Janice, Lorianne and her friend and roommate Emily Kate, Auntie Yukiko, Erika and Maria). Jasmine's mom Allison and sister Sienna joined us during the day on Saturday, as did Simon (Elizabeth's pre-kindergarten teacher), and Heidi and her twins. For those counting, that brought us up to 24. Grandma Margaret, Elizabeth's friend Ruici, Auntie Heather and André, and neighbours Lauren and Ronnie with their kids Elizabeth and Charlotte joined us for Saturday supper, for a total of 32 campers (22 of whom stayed overnight the second night). Then Portia and Ben and little Scarlet came for some beach time on Sunday (35!) So lots of coming and going and great fun. Sadly Amelia's friend (and our neighbour) Horatio was sick so their family couldn't make it last minute.
We ate well - there were s'mores, of course and chicken wraps (fri night), bacon and eggs and fruit and cereal (sat morning), hotdogs roasted over the fire with a marvellous corn-bean salad (sat lunch), chili with salad (sat evening), porridge and mini cereals and fruit and yogurt (sun morning) with leftovers and pasta (sun lunch).
Last year our site was quite far from the beach so we thought we'd try campsite 305. For some reason I was quite convinced it was 309, so all weekend people were turning up and asking to join 309 - which didn't exist. The park rangers thought I was quite amusing, especially when I told them that if it wasn't 309, it must be 307 (which also doesn't exist). Oh well. It was sweltering when we arrived and it rained a bit overnight one night but in the end the weather was actually pretty decent.
The bugs were not as bad as I was expecting, but we did make a start on our summer bucket list to "get a thousand mosquito bites". Matthew said he only got two!
There were epic nighttime card games and much roasting of things on fire. Auntie Heather and Andre brought a canoe and took people canoeing, which was very much appreciated by many. There was an epic seaweed fight - I witnessed the victory of many small (and getting less small all the time) children over sea monster Lorianne. Or where the children sea monsters? I didn't quite follow but they had great fun. Sandcastles galore. Water Bottle Rockets. Lots of fun!
You might also like
- Rideau River Provincial Park
(0.449714)
- Junior Black Belt
(0.408714)
- Old Fashioned Week
(0.408179)
- Good Friday 2015
(0.407507)
- Canoe Trip
(0.406967)
All