July 1, 2019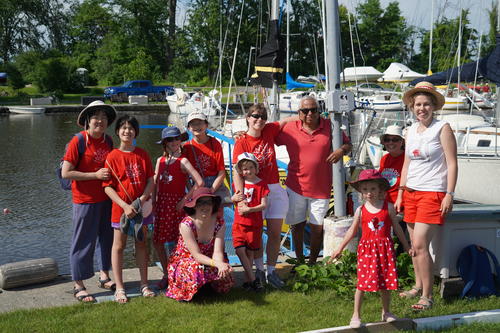 We celebrated Canada Day and my birthday with brunch, sailing and fireworks.
I didn't want to cook on my birthday, so I acquired muffins and fruit and things to serve. I also made myself some rainbow jello as soon as I got home from Southern Ontario (priorities!), which I greatly enjoyed despite not having enough time to put anything more exciting than marshmallows in it.
I didn't think that watching Michael on the boat would be terribly fun so Uncle Chris very kindly looked after him while we sailed. The water has been so high after this year's spring floods that Canada Day was this year's sail past rather than a fun race. In fact, the season only just began as all boats were restricted from being on the water during the floods.
There are so many of us now that we didn't all fit on the boat; we'll have to bring Uncle Dave and Karen and family next time! I think there was a record dozen of us in the end. There were lots of laughs about our massive crew!
After sailing we came home for a quick supper before heading over to Grandma's to watch the fireworks off her neighbour's balcony. Michael thought the fireworks were very interesting - "woooo" he said, pointing.
You might also like
- Happy Birthday
(0.391877)
- LRT Grand Opening
(0.377632)
- Canada Day
(0.375)
- Broken nose
(0.364316)
- Happy Canada Day
(0.361985)
All