July 28, 2019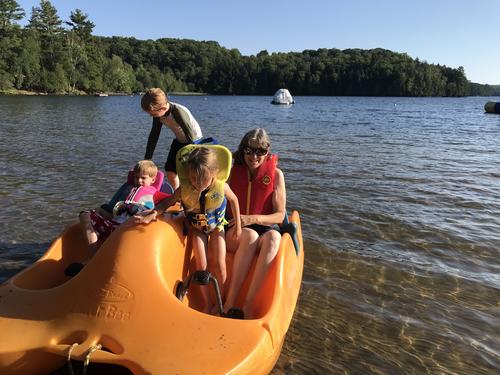 Mom and Dad and the kids and I went to the cottage a week early this year, which meant that I drove down by myself with the four of them. Brendan was skeptical that I'd left enough space for the cooler (not to mention him!) but I packed extra light this year and hoped for the best. The car was still ridiculously full. Next year probably the kids will have to just live in their swimsuits all day so we can take fewer clothes.
Amelia got to go in the back seat which apparently was a dream come true. The other kids were all very jealous. I didn't think we'd be stopping at Golden Lake as per tradition because Michael was sleeping but he woke up just in time. Everyone was very surprised and sad to discover that the "Chicken Dinner" sign at the chicken church wasn't up yet. We clucked anyway, as one does in our family. I'm pleased to report that Michael now has quite a credible chicken imitation.
When we arrived the kids immediately had to go down to the beach and go paddle boating and make sandcastles. I stayed up at the cottage because I almost immediately got stung by a bee on my foot.
We're in Springside this week, which I was nervous about but turned out was okay even though it is not Clover. Aside from the location being rather far from the main beach I think we could get used to it.
You might also like
- Cottage Days: Support boat
(0.413959)
- Farm Camp and On the Water Camp
(0.40684)
- 12 Days of Christmas: New Year's Eve
(0.404101)
- Homecoming
(0.402887)
- River Oak
(0.401058)
All