September 14, 2019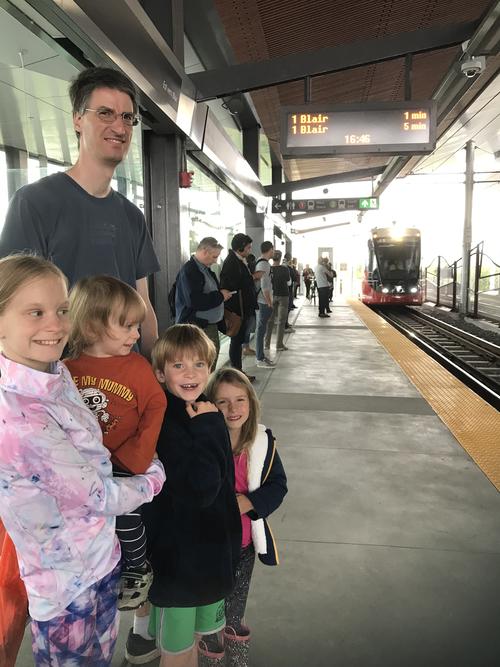 Elizabeth had karate so we didn't quite manage to make it on the first public trains but I did manage to talk Brendan into bringing the family to ride the rails on the very first day.
We were expecting Lorianne for dinner so needed to be back by a particular time, which meant we didn't quite have enough time to go from one end to another. Instead we parked at St Laurent and took the train until Bayview. Then we got out and took the train back to St Laurent. The kids thought it was pretty cool but Michael was mostly over the novelty about three stops in. This was the point that Elizabeth and I looked at each other and decided it would be more fun to drive to London at the end of the month rather than entertaining him for seven hours on a train. They also thought it smelled a bit like cows. They weren't wrong.
We travelled on a family pass which was confusing because it turns out you can't put a pass on the presto card. Oh well. There was an army of people in red jackets directing everyone. We were clearly not the only LRT tourists onboard - there was a festive air with many people taking selfies and just taking the train for fun.
We were impressed by how smoothly everything was running. The trains came when they said they were going to come and there wasn't much waiting.
You might also like
- Virtual Piano Recital
(0.408665)
- First outings: Music, library, karate
(0.40273)
- Roses and Thorns
(0.397946)
- Spartan Race
(0.395487)
- Cottage Arrival 2019
(0.395202)
All